I always knew I appreciated great furniture. But recently I realised I love it. Really love it. This is the story of what happened, and how Malenka Originals came to be.
My family recently moved back to Canada after 8 years living in Europe. We didn't bring everything back with us, and needed to re-stock the house, but I was largely uninspired and unimpressed by furniture in the stores. The well-made stuff was hugely expensive. The reasonable stuff was cheaply made. And most of it was just boring and a bit ugly.
Inspired by our time living in the Netherlands — where I became much more interested in design and interiors – I decided to find some old dressers and personalise them to our tastes. We found this one on kijiji: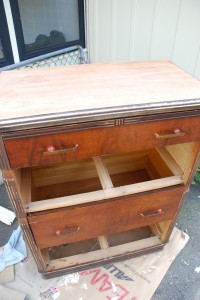 When I set to work on her, some kind of chemical reaction happened in me. I like to think there's a hereditary refinishing gene embedded in my DNA, passed on from my grandfather who spent his life and career restoring antiques. Since then, I have been living and breathing furniture. Even dreaming about it. (Every night!)
And now, this is all I want to do. Which is why Malenka Originals was created. So for now, I'm putting my past-life – working in the media – on hold. The only place for me is with my paint, stain and sandpaper.
The art deco dresser isn't for sale. I can't give up my first born! But there's more on the way soon.
I'll be posting pieces for sale on this page, or you can look in available pieces. If you have any questions, please email me at katrina@malenka.ca.
Thanks for stopping by.
Katrina x
You might also like