There is a jaw-droppingly beautiful armoire in Annie Sloan's book Creating the French Look that I've been fixated on for a long time. It's the most flipped-to page in my display copy.  Anyone who mentions 'Country Grey' is promptly met with me grabbing the book and introducing them to said armoire.
It's hard to really see its true beauty in this picture, but here it is…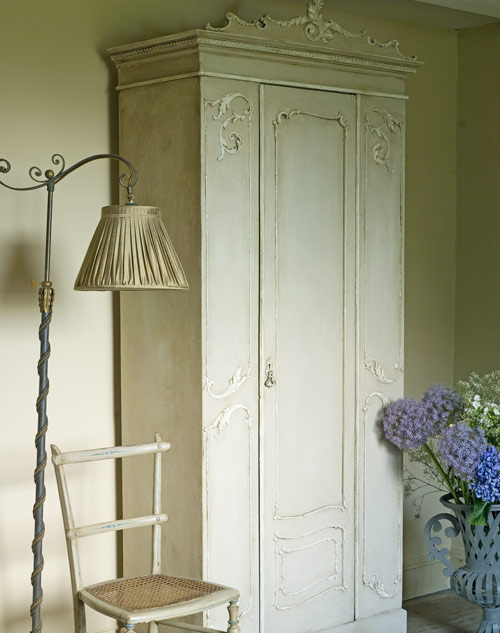 (This picture is taken from Annie's blog and (you lucky people!) she has a mini tutorial on how she painted this on there. That being said, the book is amazing, so if you don't have it yet, muchly recommended.)
The piece itself is, of course, gorgeous but it's the choice of colours and use of dark wax that draws me in.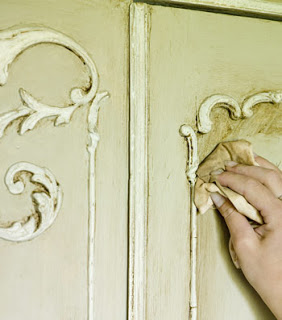 Annie used Country Grey over everything, then painted the details with Old White. (Don't let this scare you! I'll explain more below.) She then used clear and dark Soft Wax to really make those details pop out and add an instant patina to the piece.
I've been looking for something for ages to recreate this finish. This beast beauty sat in my living room for, well, nearly a year. When I finally dragged it into my shop I realised it would be the perfect subject to try the armoire finish on.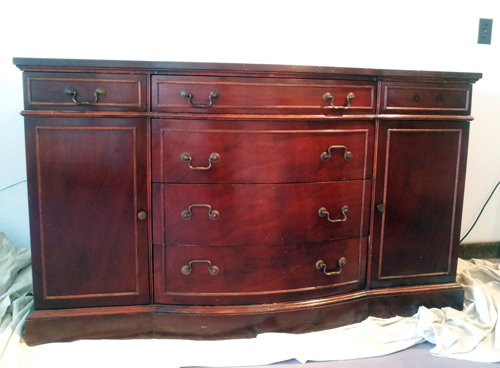 Certainly not the same French Provincial style, but the nice trim around the doors and drawers were just begging to stand out. Plus, I knew Country Grey would be a good option to take the heaviness off such a huge piece.
So I painted everything in Country Grey — if you're not familiar with Country Grey, it's not really a "grey" as we think of grey. It's sort of a linen colour (Annie says "putty") with a slight greyish undertone.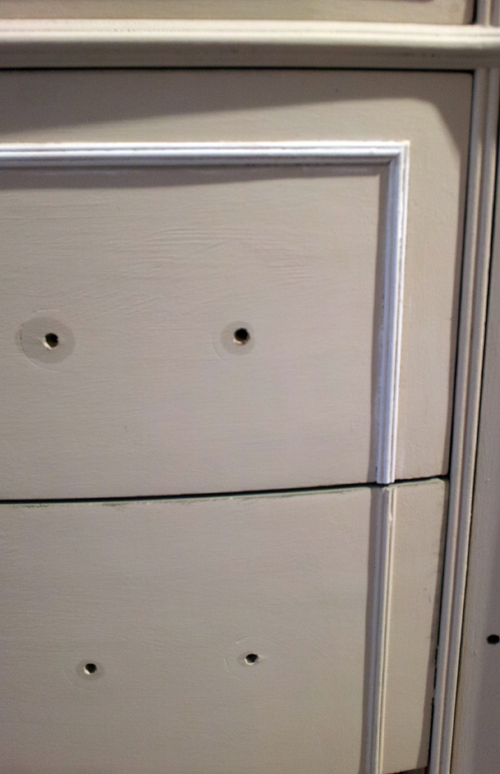 The top trim has been painted in Old White, while the bottom is still all Country Grey. Look how much the white makes the trim pop out.
If you're scared about doing fiddly-painting on a piece, don't worry.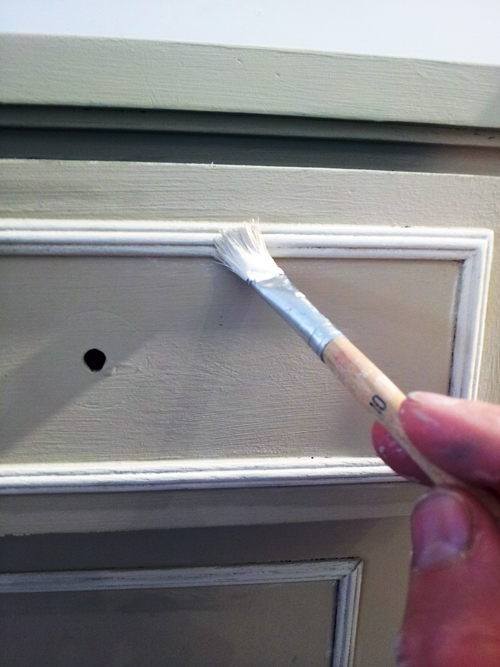 I used a smallish brush, but didn't tape it off, or bother getting it perfect. The beauty of this technique is using lots of dark wax around these details, and also using some sandpaper to distress the edges, which hides some of the imperfection. And besides, remember about finding beauty in imperfection, right?
Here's how she looked when I'd finished painting…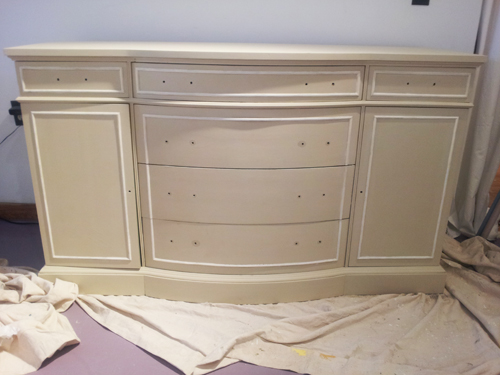 Then I went to town with the clear and dark wax, and ended up with this as my finished product…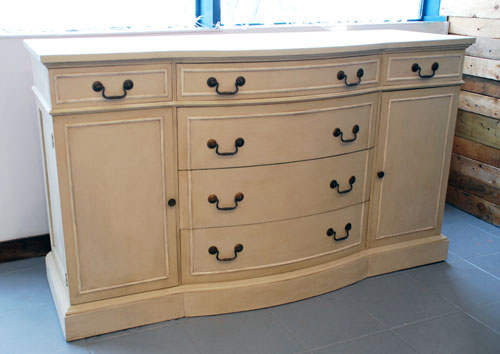 Amazing how the wax adds that instant age!
I was so absolutely in my zone when I was doing this that I didn't get any in-progress shots. But I did want to mention that after using lots of dark wax, everything was a bit too heavy. So, I waited a couple days, and then did a wash over the inside of the trim.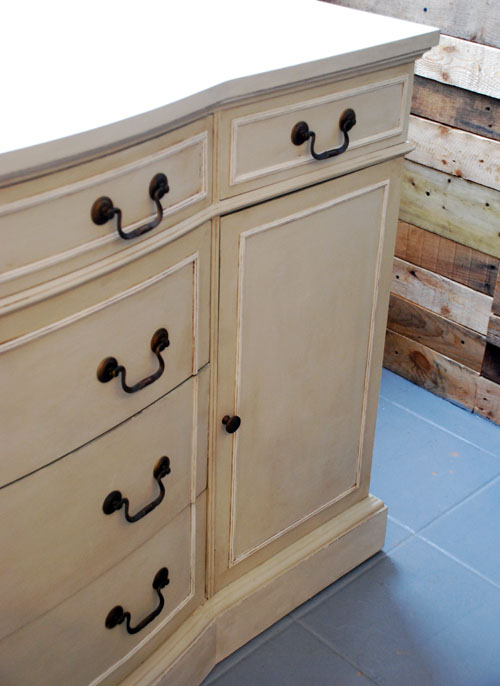 See how it's just a tad lighter in the middle? The wash lightened it slightly, and gave some nice variation in colour. The wash was 50/50 water and country grey, painted on, then rubbed with a cloth. Then I waxed with clear Soft Wax. It just took off some of the edge from the dark wax. I highly recommend this if you've found you have too much dark wax on a piece. Just make sure to wait a few days for the wax to dry before painting over it.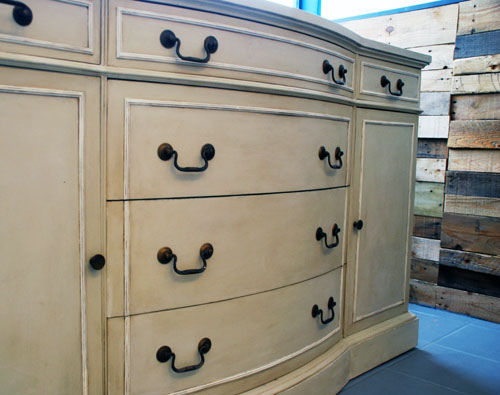 I love the bow front on this piece. And the original hardware is such a great contrast.
Slight distressing and dark wax in the trim.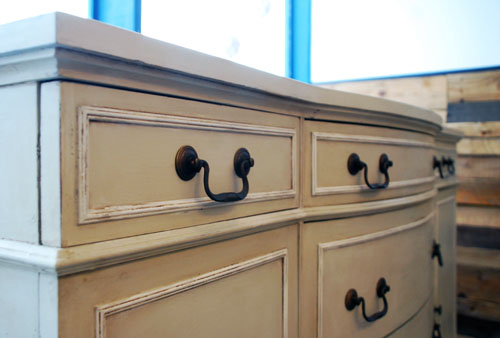 And inside, Chateau Grey, another grey that's not quite grey! (I have to ask Annie about that!)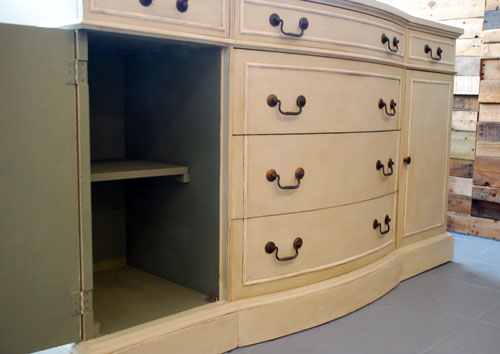 This piece didn't last long in my shop, but I'll be getting into more Country Grey again soon…it's such an easy, classic colour. Pairs nicely with whites, and sits well in a room with wood furniture.
If you like this look, check out Annie's blog or Creating the French Look for more details!
– Kx