End of April and I have no finished pieces to show for it! If you've been in the shop lately, you'll have seen about 6 (or more) pieces in progress over the last month…very slow progress.
This has been a fairly odd month, especially as I was only in my shop for half of it. I had two trips out of town — one long awaited, one sudden — but thanks to a team of wonderful women (and understanding customers!) everything ran very smoothly.
The month started out with a trip to New Orleans for the Annie Sloan Unfolded stockists conference. (NOLA is where Annie Sloan Unfolded — distributors for Annie's products — are located).  We had lots of time with Annie, and I fear she must have been exhausted by the end with all our book signing, photographing and general fawning!
But she is the definition of a good sport…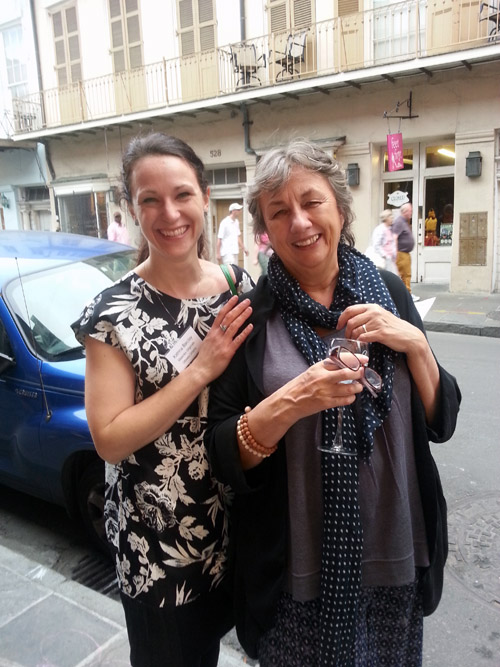 How happy am I?
I had to show her my Florence painted Adidas…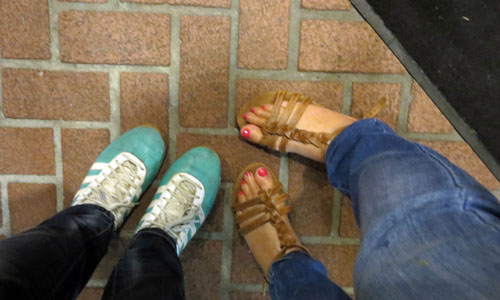 She liked them.
It was a great week, and I came back enthused and inspired to get cracking on some overdue tasks.
My shop in Ottawa is more of a workshop rather than a retail shop. Yes, you can buy stuff there, but the mood I've been trying to create is of an ever-changing, work-in-progress, creative-stuff-happening kinda space. This means that I don't always have finished pieces to show (but *always* have something being worked on) so I really rely on my photos to show people the possibilities of painting furniture.
In the rush of first opening, I stuck a bunch of photos on the wall with cute washi tape. (It was also supposed to be a chalk board wall, but take note, do not use those chalkboard markers! It will never come out.)
Here's a view of the before, during a recent workshop…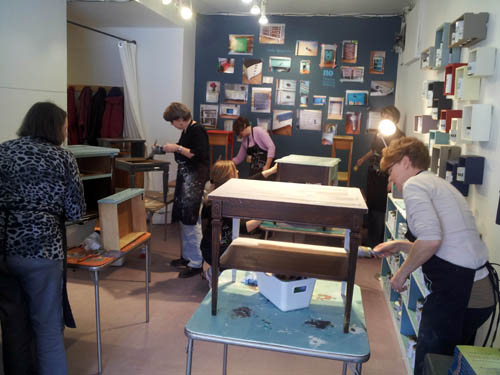 I did love the fun look of the tape, but was itching for something a bit more refined, but still with a casual feel.
So, Cristina — who I'm overjoyed to have working in the shop — and I brainstormed. The first thing we agreed was to paint a new colour on the wall, and settled for Graphite.
Here she is painting over the Aubusson blue. I love Aubusson, but wanted something a bit more dramatic and more of a contrast to the stark white.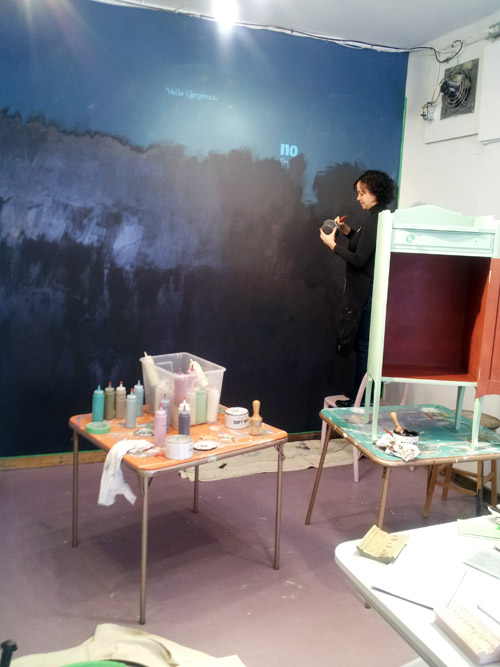 She used a brush, which worked beautifully, but a roller works too.
Now, Cristina is an architect, so when I came up with this idea, I shouldn't have been surprised when she executed it with such precision.
I left her for 2 hours with a role of twine, a pack of nails and 50 clothespins (total about $10 from Canadian Tire) and came back to this incredible maze of string on the back wall…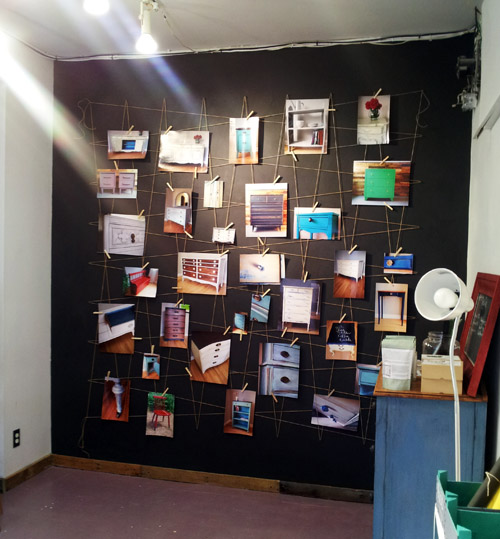 There's a diagram somewhere out there with her exact calculations of how to string it up. If I find it, I promise to take a picture! I was reluctant to hang the pictures up — the twine itself is a work of art!
She used nails to secure the twine to the wall.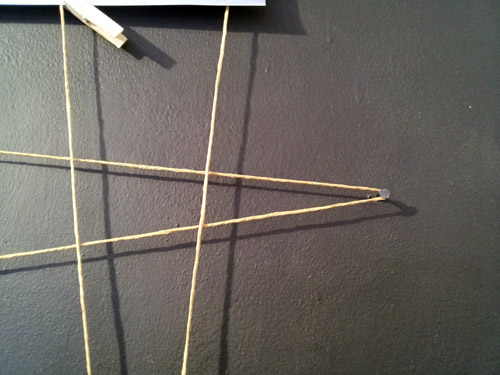 (I also waxed the wall, which you can see in this shot, as it gives a lovely soft sheen to it. Waxing walls is not compulsory…they stand up fine without any finish. But the look is quite stunning.)
This is a great idea for a family photo wall too, which can be ever-changing, and include notes and clippings too. And you can do any kind of pattern you want.
So, the back wall was very exciting…
Then I had to go home to Calgary for a week on short notice. My parents still live in the house I was brought up in, where I lived from age 1 until about 25.
I'm always talking about my Grandpa, who was a master French polisher and restored priceless antiques for his career. (Jump here and scroll down to read more). Well, I was always surrounded by antiques, and as I sat in my Mom and Dad's living room one morning last week, I couldn't help laugh that this was the norm for our family home…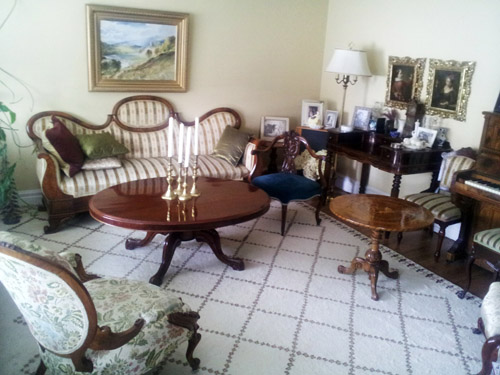 This is a completely unstaged slice-of-life. Just a regular day in the Barclay family home. And every corner of the house is bursting with these kind of pieces, almost all of them having been restored by my grandfather's hands. (Here's some old-school repurposing for you — the piece in the back left corner under the two gold frames was a badly damaged harpsichord that he rescued and made into a desk).
This was my first visit home since starting Malenka Originals, and even if it's not my current decor style, it was the first time I *really* appreciated all this incredible furniture.  When you grow up with this, it just doesn't seem like anything out of the ordinary.
Would I paint it? Well, that's fodder for another blog post…but no, not anything in this picture. Mainly for sentimental reasons, but also because it is stunningly beautiful and valuable stuff. But there's certainly a few other things in the house I'd love to sink my paint brush into!
But one thing at a time.
Happy May everyone!
– Kx