I just uncovered a treasure trove of old pictures from a memory card I thought I'd long lost. On it were a whole whack of befores that I've never posted before.
We all love spending inordinate amounts of time gazing at before and afters, don't we?  What better for a blog post during the last few lazy days of summer.
****
I was recently interviewed for an Ottawa Citizen article  about transforming yard sale finds. I mentioned one of the things I look for in used furniture is surface damage. It's going to be covered up anyway, and scratches to a finish usually mean you can get the piece at a lower price.
This is a good example of the kind of surface damage I like to see…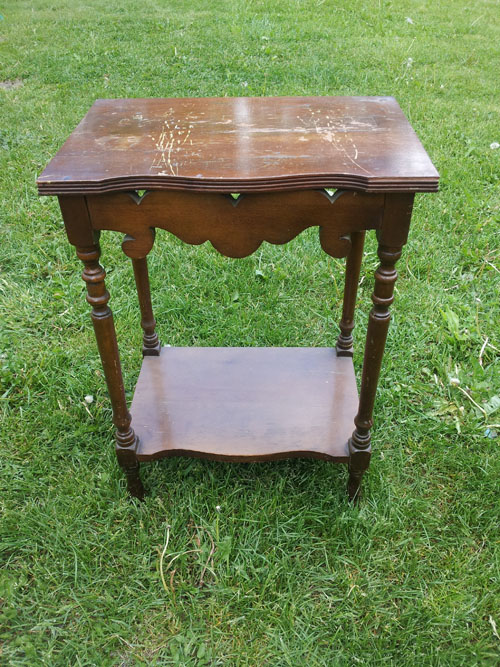 A little bit of everything in there. Water marks, scratches, natural wear. But otherwise in perfect condition, and totally solid.
Here's the finished product…
Originally I thought I would keep the top in wood, so I sanded it down with my orbital sander. When I got past the varnish, I found the wood on the top almost looked like 4 separate boards. I wanted to play with it, so ended up with this…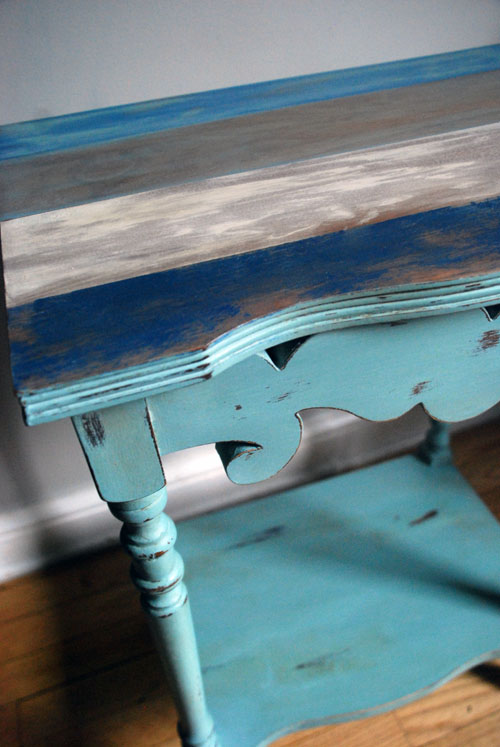 Each stripe was done with a slightly different technique.
The first one (closest to us) is Napoleonic Blue, painted then waxed and distressed with a sanding sponge.
The second is Old White, added lightly in some places and heavier in others, then basically smushed around with my finger until I was happy with the effect.
The third is a Duck Egg wash (50/50 water and paint), painted on then rubbed off so the grain still shows through.
The last one is Duck Egg on the bottom, with a Duck Egg and Napoleonic mix on top, with some rubbed off to reveal the ligher colour underneath.
It was an ode to one of my favourite designers, Piet Hein Eek, who does fantastic pieces with different bits of painted scrap wood.
****
Graceful Grey.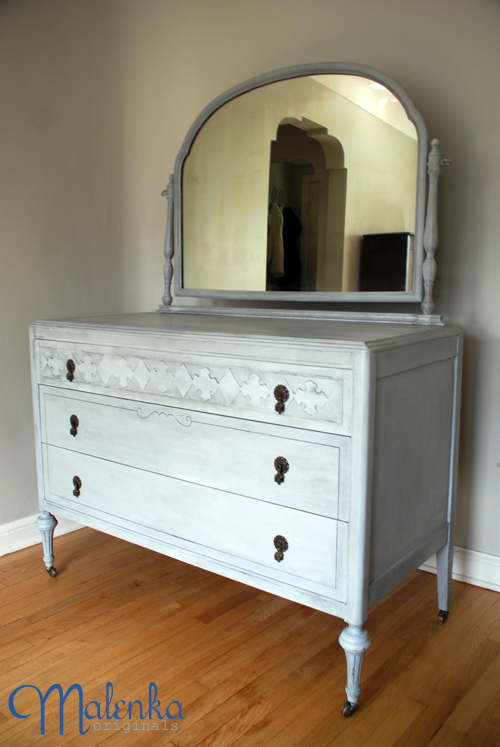 In the original blog post, I didn't put up a before picture, so here it is…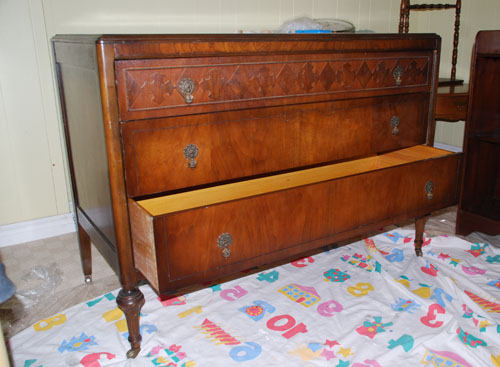 Wood lovers will be groaning for sure. It was a beautiful piece with some fancy veneer. But it needed to be lighter, and the beautiful detail on the top drawer was being lost. And the handles are swallowed up by the dark.
I used Paris Grey for this dresser. Then I mixed black acrylic paint into my Soft Clear Wax, and went over everything with it, especially concentrating on the details. This gives it a nice smokey look. You can also use Graphite paint mixed with your Clear Wax to get this effect.
You can see more pictures of the finished product here.
*****
This coffee table was really quite dull before, and I hummed and hawed for ages over what to do with it.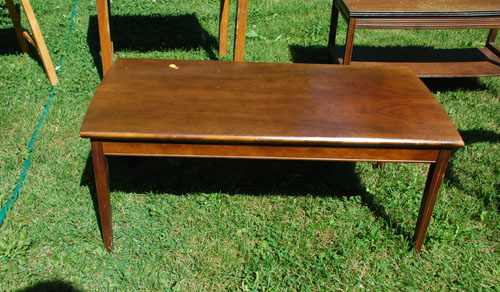 And then it became the subject for my first wood racing stripe.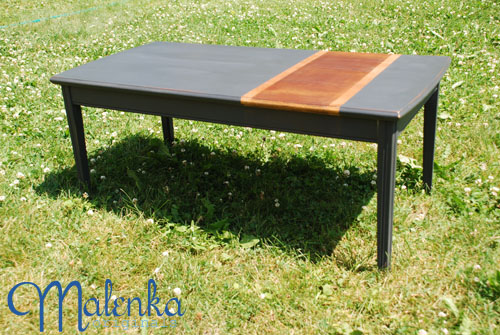 This was done in Graphite, with a natural wood stripe, which I also did on these MCM dressers last Fall.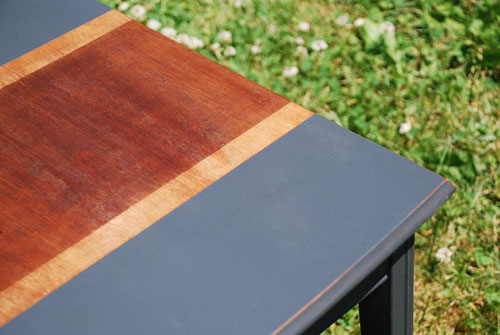 Really quite easy. Sand off a portion of your piece, then do two lines of painter tape. Use a wood stain in between the tape. When you take off the tape, you'll have the natural wood underneath, and the stained part in the middle.
*****
This little bookshelf wasn't much to look at before…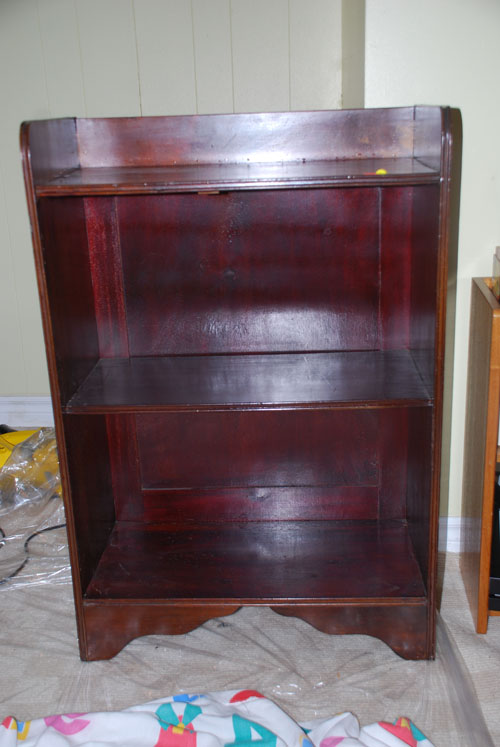 But with some Old White and Duck Egg, was completely transformed…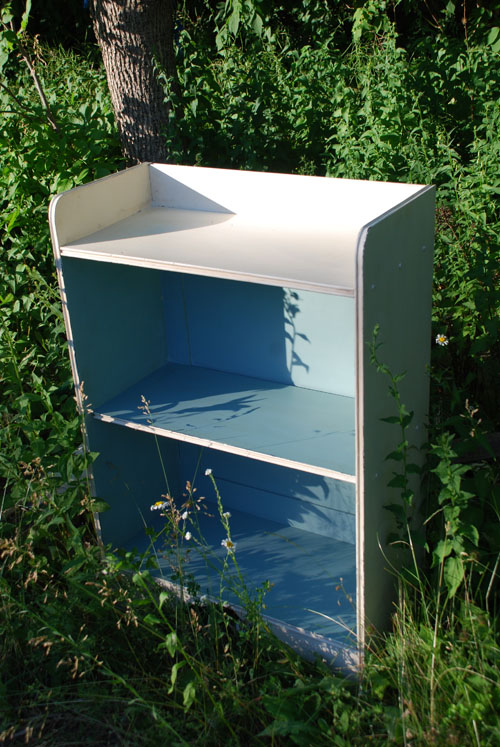 The Old White was antiqued a little bit, using a mixture of Clear and Dark Soft Wax together. Mix them up about 50/50 in a separate container, then apply over the dry Chalk Paint™. You'll find it's much easier to manipulate, and will give a less intense antiqued look.
*****
I still have more to show and tell about, but I'll save them for the next post.
I did want to say thank you though to the four lovely families who now have these pieces. I didn't know them before they bought these pieces, but all of them have been back to say hello, take workshops, and buy Chalk Paint to transform their own pieces.
It makes looking back at the 'afters' even more sweeter.
Kx