My last chance to squeeze this in here before summer is well and truly over…
I found a bunch of before pictures on an old memory card a few weeks ago, so have been looking back at some goodies from the before and after collection. You can see Part 1 here.
Here's a dresser that was a perfect subject to be refreshed.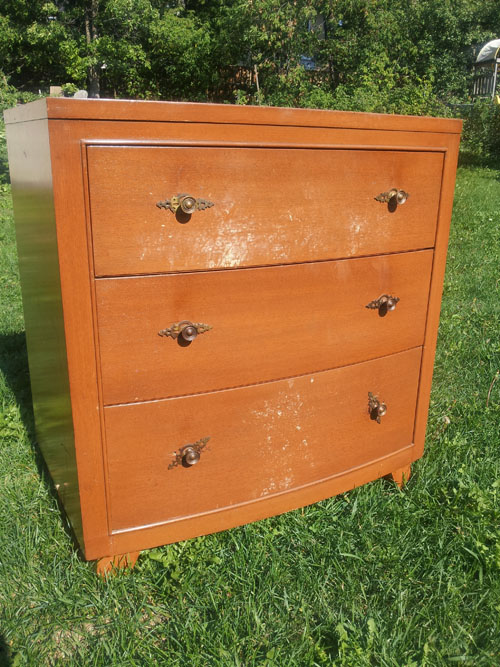 Water damage on the front. Bad hardware. Unattractive orangey colour. But solid wood, made well, and a nice, simple modern shape.
And with those kind of lines, I decided to go with a more contemporary look, choosing bright, clean Antibes green.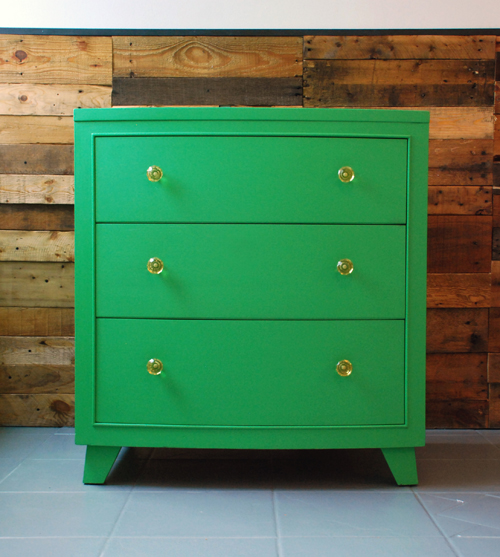 For this look, I painted in one direction, using a bit of water with each coat to make the Chalk Paint™ go on smoothly for an even finish. I finished her off with Clear Soft Wax. New yellow crystal knobs were the final touch.
*******
Obviously no staging was put into this before picture…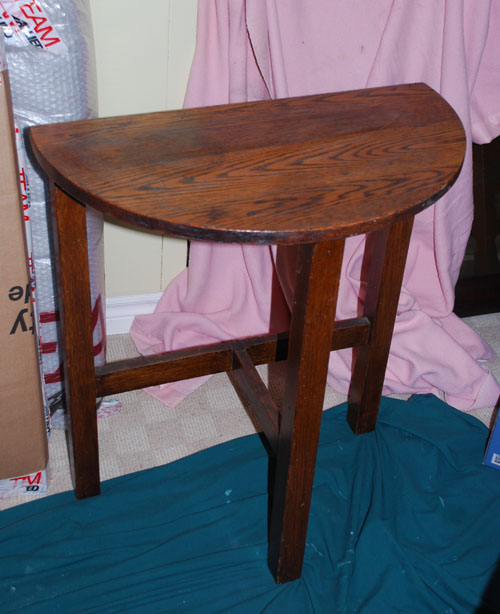 Solid oak half moon table. Again, it has simple lines, and I knew it could be made to look contemporary with that shape. It had a slightly masculine feel to it, so I went with one of my favourite combos of wood and Graphite.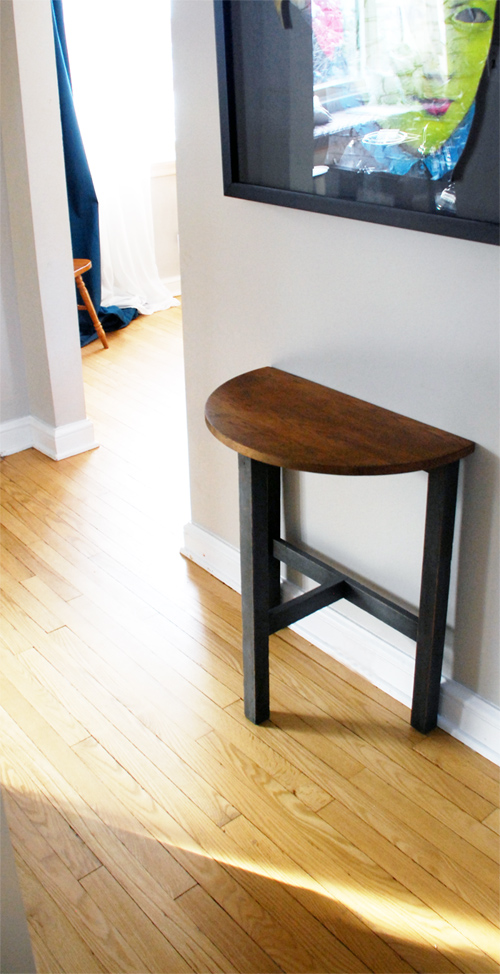 I used an eco paint stripper to take off the old finish from the top, then I restained it in a mixture of stains, then sanded back the top a bit to give it rubbed, naturally aged look.
I painted the legs in Graphite, with clear wax. If you lightly take some sand paper to Graphite after waxing, you can get a really interesting brushed-steel look like this…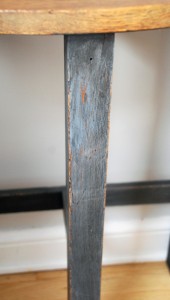 (Just keep in mind that if you re-wax it or buff it, it will probably disappear. But you can give it another quick sanding to get the look back.)
******
Remember this pretty in pink?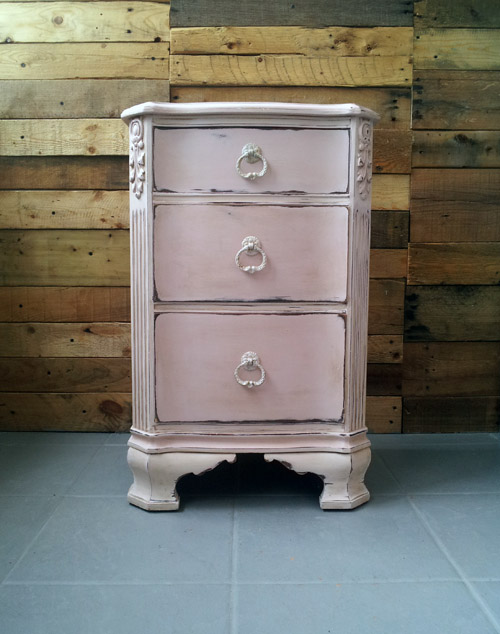 Here's how she looked before…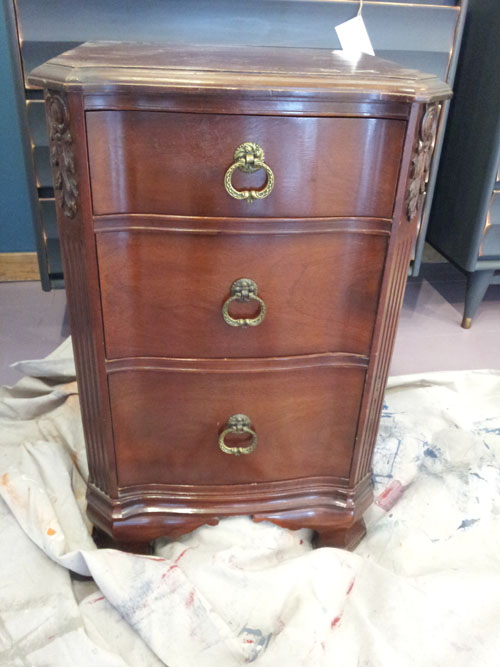 You can't tell here, but she was also very scratched and banged up before.
And notice how browny-orange the wood is? I find myself very often telling people in the shop how the colour of wood looks very different once painted, then distressed. Looking at this, you would expect an orange colour to show through once distressed, but this wasn't the case at all.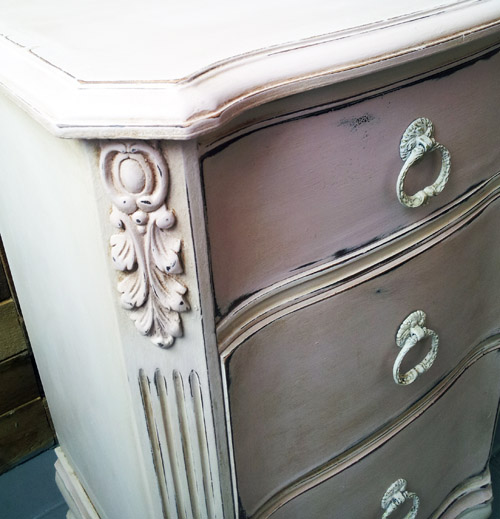 Can you see here how it looks very dark underneath, almost black? It didn't show up at all like you'd expect, looking at the before.
So, if you want to do a distressed look but don't like the colour of the wood, give it a try anyway. You'll likely be surprised how it shows up in small doses when you start sanding edges and details.
******
Cute little coffee tables like this are pretty easy to find at garage sales or on kijiji.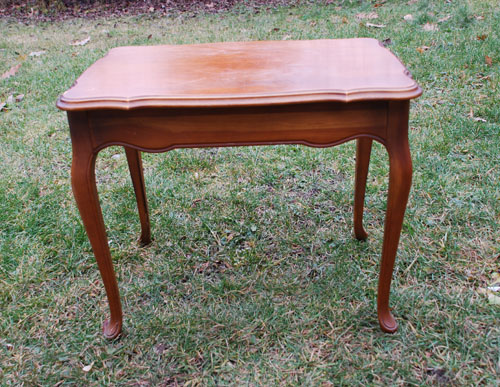 Great legs. Nice solid construction. And it was actually made here in Ontario, which is always a bonus.
I wanted a classic, clean look, so went with white.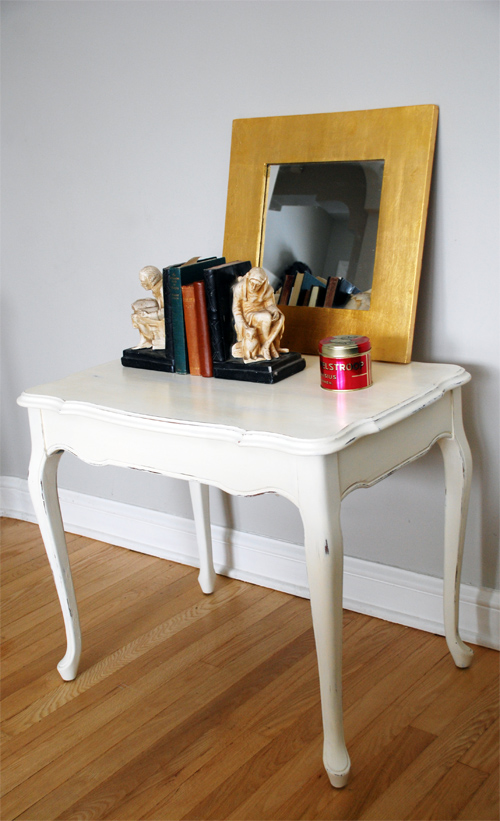 This table was actually the first time I used Pure White. If you've every used Pure White, you'll know a couple things — it really is pure white. As white as white can be. Once you add the clear wax, it does get slightly softer, so if you paint and it looks too white, try a bit of wax first before you make up your mind.
The other thing about Pure White is that it takes a bit more coats to make it solid. Being a true white, it's devoid of pigment, so you need more coverage.
With this table, I decided to use Old White first, then a coat of Pure White, which gave me a nice two-tone look, which was perfect for making it look slightly antiqued.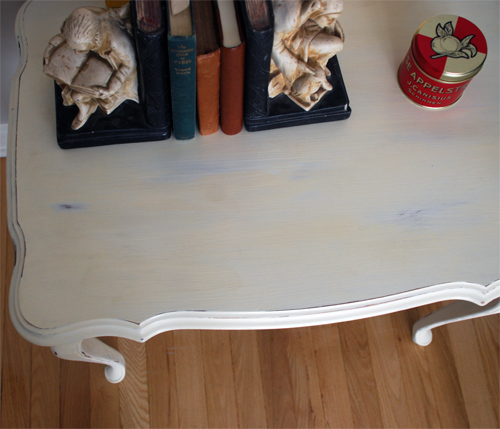 If you find Old White too creamy, and Pure White too stark, try mixing them together 50/50. It's a white-white, with just the tiniest touch of warmth.
*******
And finally, a table with a special place in my heart…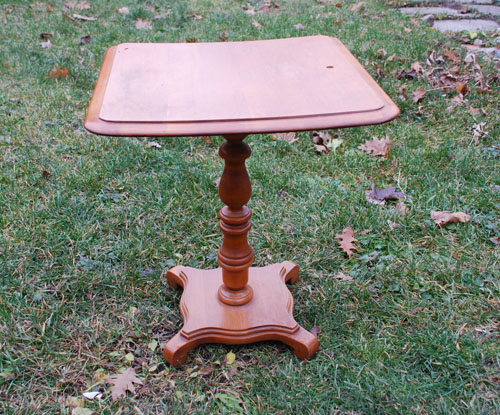 I picked this pedestal table up at an auction for $5. As you can see, it was (is still!) slightly warped on top, and someone had drilled a mysterious solitary hole through the top. Otherwise, I loved the base of it, and how can you argue with a solid wood table for a fiver?
I filled in the drill-hole, then painted it in Graphite. I used clear wax, and did an even distressing around every edge.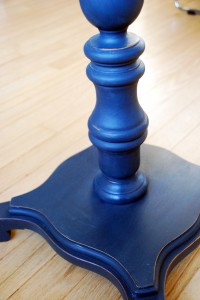 As you can see here, Graphite can have a very blueish tone to it. I find in natural light — and there was lots of natural light in this picture — Graphite really looks blue, but away from natural light, it looks more black. If you don't want a blue tone, use Dark Soft Wax directly on the Graphite.
This piece was the very first piece of furniture I painted with Chalk Paint! I still remember my apprehension as I started painting directly over the old, shiny finish. After all my time stripping and sanding furniture previously, I just couldn't believe it was going to stick.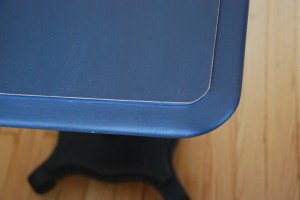 But it did!
And I'm happy to say I've had this table next to my bed for almost 2 years now, and it still looks perfect. No dings or peeling. If you look close in the light you can see some lines in the wax, but they disappear if I buff it up a bit.
I had originally posted this for sale, but then decided to keep it. It might not be the most exciting piece I've done, but it certainly has a lot of meaning. And not too bad for a first time, eh?
*******
Hope you all had a great summer and transition nicely into fall. See you in September!
Kx