What does home mean to you?
Judging from all the entries in Habitat for Humanity's fundraiser "Habitat Unhinged: 20 Doors for 20 Years", the answer varies hugely depending on who you ask.
Our local Habitat for Humanity gave twenty different artists in the National Capitol Region the chance to try and express their feelings about home on a door. Here's a few displayed at the Home Renovations Show recently.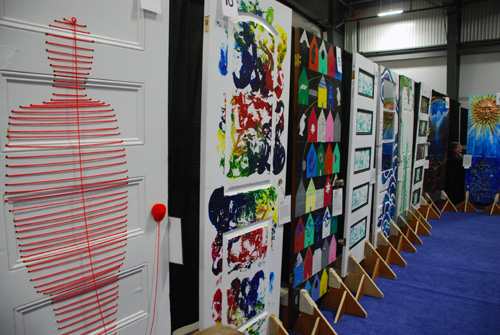 The end result is a silent auction for the doors, with all funds raised going to help their very worthy cause of helping low-income families make homeownership a reality.
I was honoured to be asked to take part. But to be honest, was a wee bit intimidated.
I've done a lot of furniture, but that's different. Furniture has shape…there's already so much there to work with. But a door is basically a flat, blank canvas. Plus, this was going to be with real artists  (ie: the kind that can draw, which I certainly cannot!).
I kept remembering — with slight panic — this door that I saw at the Toronto Home Show: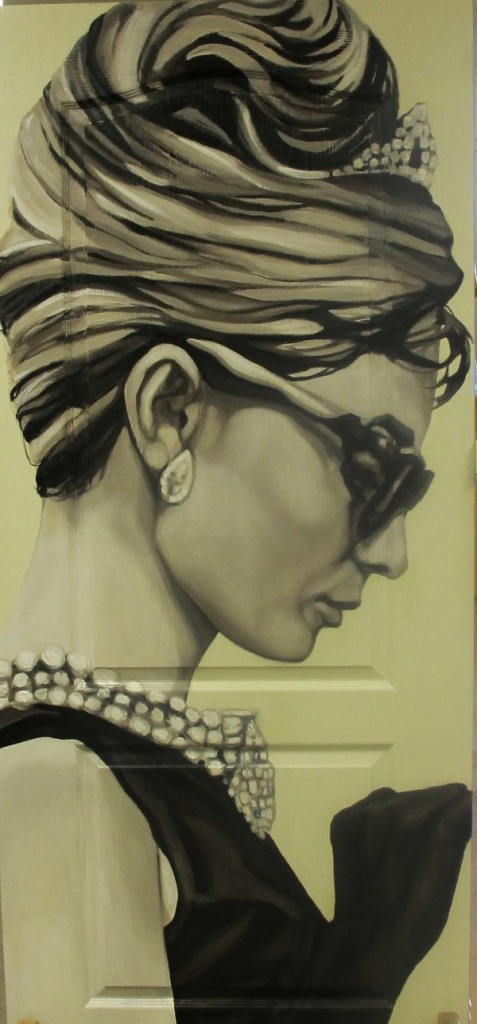 Yes, that's painted on a door! And no, I would never be able to produce anything remotely like this. This was done by Toronto-based figurative artist Celeste Keller.
Anyway, I knew my door would be different from the others. I decided to focus on trying express my style on the door, while also touching on those themes of home.
There were lots of doors to choose from at the Restore…anything from old antique doors, to newer more modern doors. Lots of white painted doors!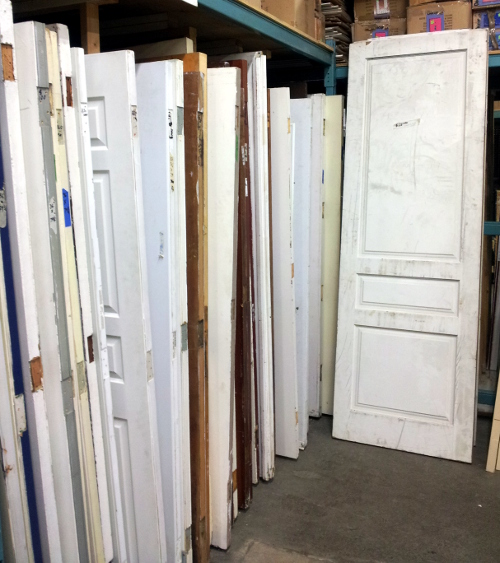 I wanted to do my favourite finish of mixing wood and paint, so I set about finding a solid wood door with some nice grain.
Here's what I settled on…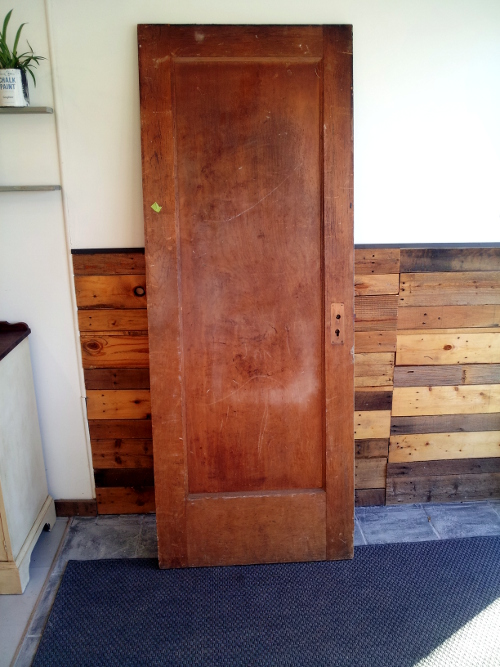 Under a whole load of gunk and damage I knew there was a beautiful patina, so I set about getting the top layers off by stripping it with an eco gel stripper from the shop.
In my head I had a vision of wood stripes, not quite the racing stripes from past pieces, but something with more variation in wood tone. I started taping off some areas.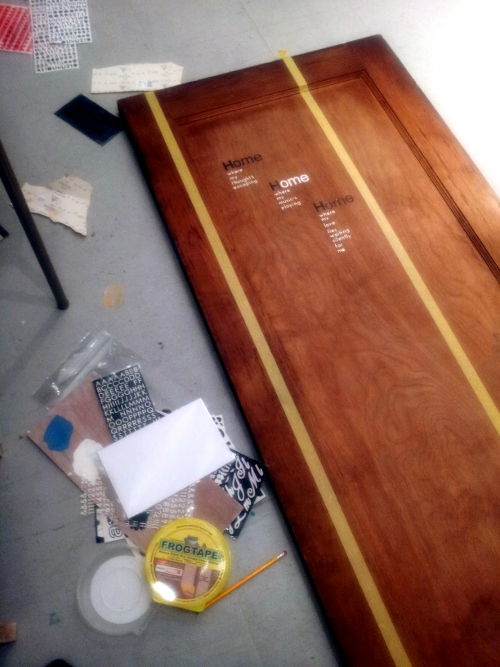 I also settled on doing some text, and couldn't get these lyrics out of my head. So I used letter stickers to write them down: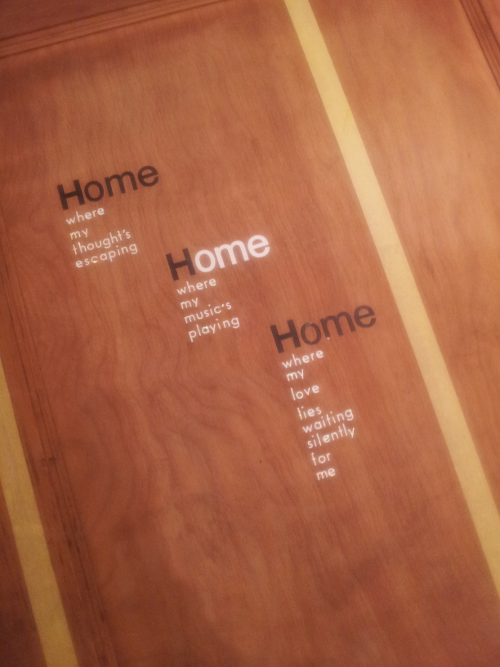 I love this song. And the last line is one of the most beautiful and soothing sentiments I have ever heard in music.
It's the perfect reason to love coming home.
Paul Simon wrote the lyrics of Homeward Bound, which were famously recorded by Simon & Garfunkel in 1965.
So, I used the stickers on the bare wood, and painted Annie Sloan's Graphite on top, so that the letters would remain in wood when I took them off.
It's a technique I first saw in Annie's Colour Recipes for Painted Furniture book, and that I tried on a chair several months ago.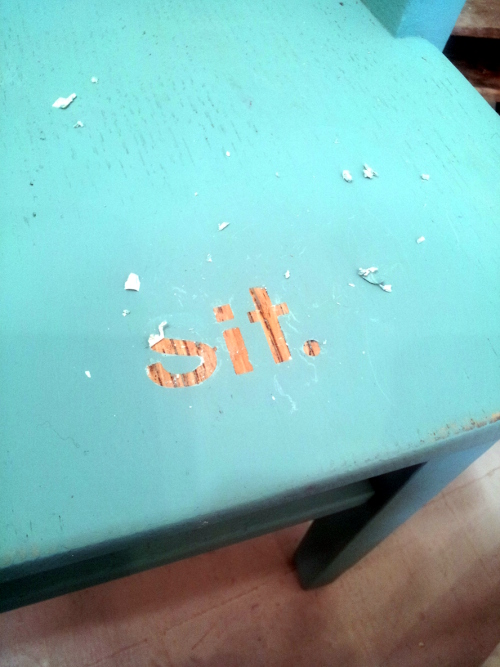 Tearing up the stickers can be a bit of a chore, but the effect is great.
So, after I lifted up the letters on the doors (and spent hours with an xacto knife cleaning up the edges of the letters!) here's what I got…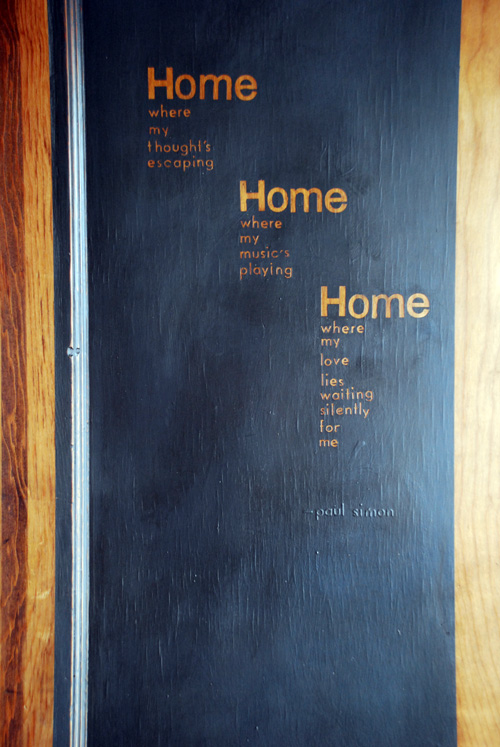 The stickers with the nod to Paul Simon were kept on, so that they blended in a bit.
As for the stripes, I sectioned off different areas of different widths, and stained some of them, and left the beautiful patina of the old wood in others.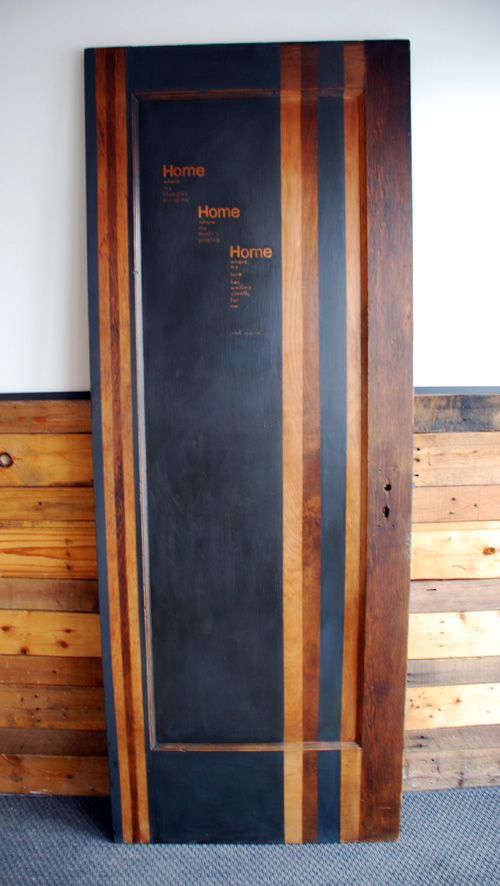 The overall effect I was going for was to give it a more contemporary feel, while still retaining a sense of its age.
A few days after finishing my door, I was excited when I saw the January issue of Dwell Magazine, and the wood stripes in this beautiful modern kitchen.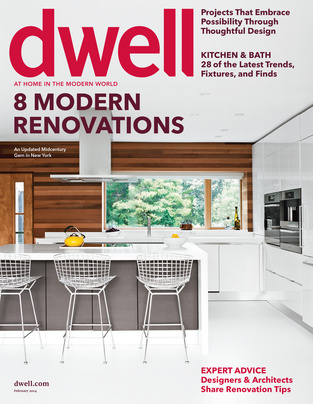 Those are, of course, different slats of wood, but I love the effect, and it's a bit of what I had tried to achieve with my door.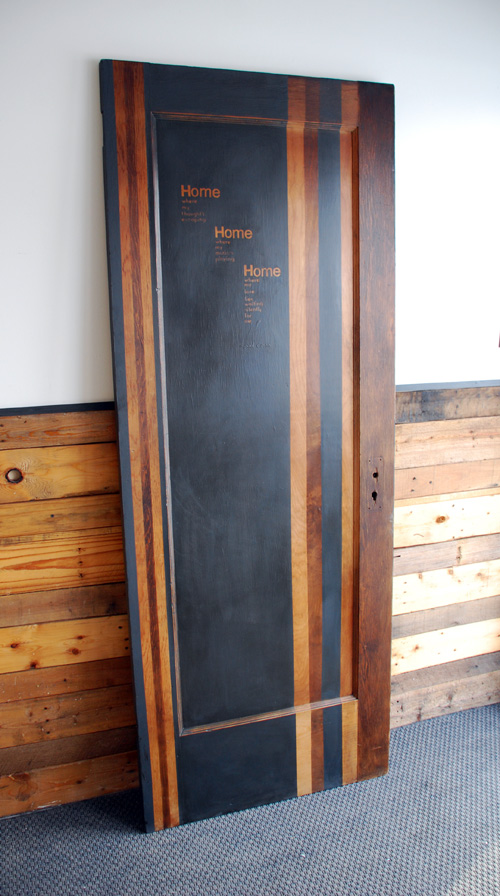 If you're interested in seeing the 20 doors, they'll be on display in the foyer of the Ottawa Convention Centre from February 8-9 during Winterlude.
And of course you can still bid! Some great bids were made at the Home Renovations Show…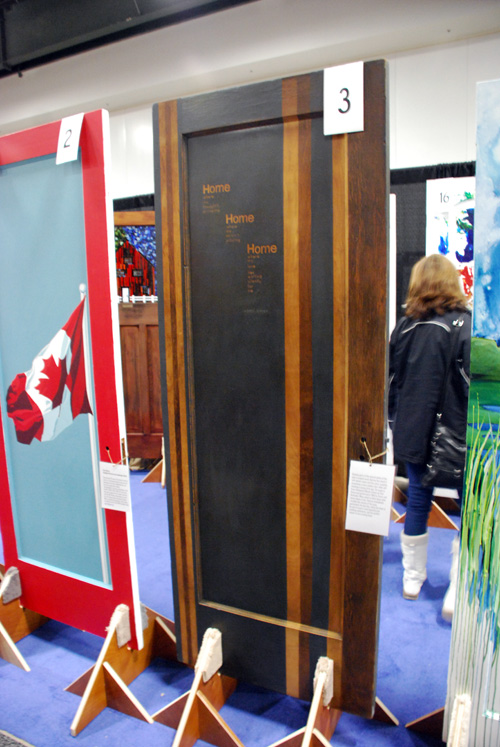 You can see all the doors and bids on the Habitat for Humanity NCR facebook page. And thank you to whoever has already made the  generous bid on my door (and no, it wasn't my Mom…I checked.)
Consider making a bid. You get a piece of art, plus it's all going to a great cause, too.
Contact Valerie at development@habitatncr.com or 613-749-9950 ext. 233.
Kx
PS: I've had to close all comments because of spam, but please join in the discussion on my Facebook page.