Happy 3rd birthday to my business!
It was exactly 3-years ago today that I posted my very first blog post, launching Malenka Originals. At the time, it was an at-home business, painting and selling furniture out of my Ottawa home, via Kijiji and my blog.
The first blog post was all about this dresser.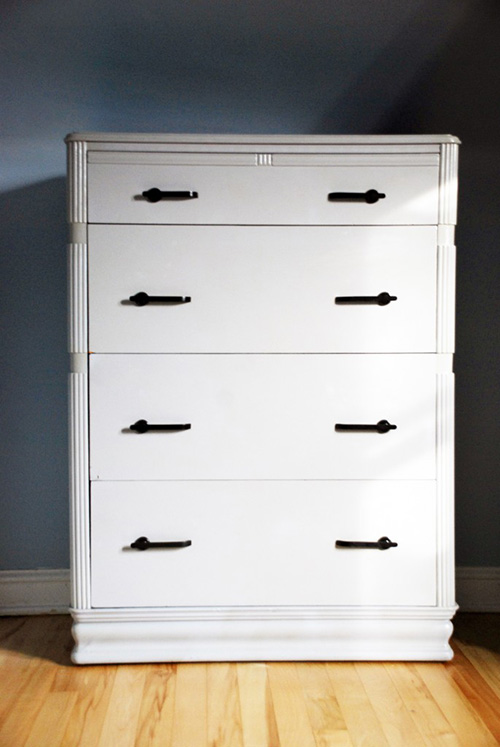 Oh, if I knew then what I know now!
This dresser was done in my pre-Chalk Paint™ days, in the months leading up to me launching Malenka Originals.
I knew very little then about refinishing. Just some knowledge from my grandfather and parents, a strong desire to be eco and re-use furniture, and a fire in my belly to turn this passion into a job.
This dresser was bought by my husband from Kijiji for $40.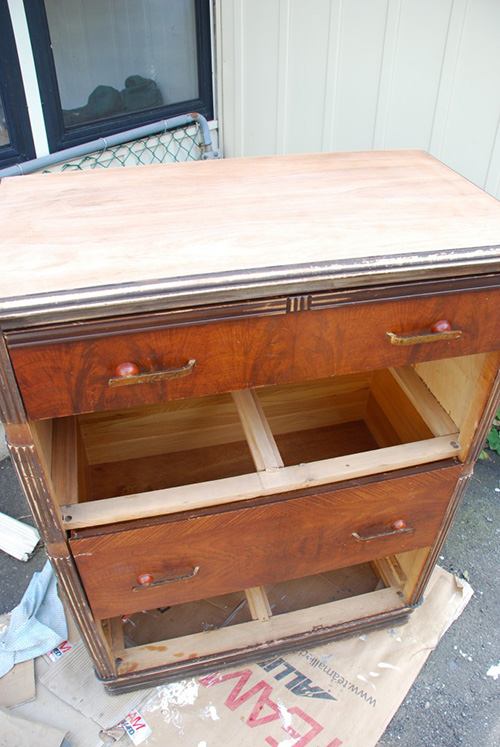 This picture was taken part-way into the sanding down of the entire piece.
Yes, I know some of you have been there and feel my pain.
I sanded everything, primed it, painted it with a cheap latex (I didn't know better!). Then, with not-very-good-advice from a local hardware store, I varnished it with an oil-based finish.
If you've never used an oil based finish, for goodness sake, don't! The day after I varnished it, I went to look at my masterpiece, only to find the finish had all bubbled off. High humidity was the culprit.
There were tears. Lots.
The oil finish had to be sanded off. Then reapplied. The whole process of doing this dresser took over a month. And it cost a lot. Sanding paper, primer, lots of paint, oil varnish…not to mention all the time.
All I can say is thank goodness for Chalk Paint™! No stripping, sanding, priming = bliss. And all I would have needed to get the same look was a quart of Paris Grey and a can of Clear Wax. And it would have been finished in a day or two.
This is the way I like it now. Painting right over the old finish!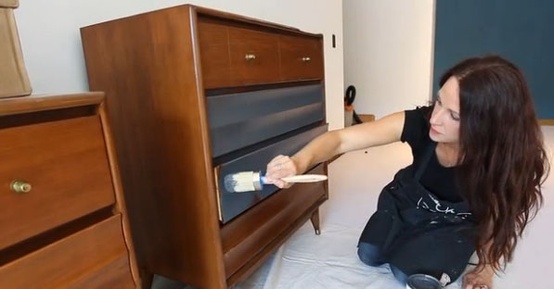 As I've often said, with Chalk Paint, you start at the fun part, and go from there.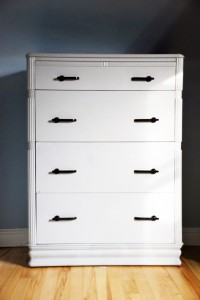 As for my first dresser, we still have it. It's my husband's dresser, and funnily enough, he's been asking me to re-paint it in Chalk Paint for 2-1/2 years now! Maybe this is the year.
A big thank you for everyone who has been supporting me and inspiring me over the last three years. Also, I wish much luck to all of you out there who have started your own businesses with the same fire in your belly as I had.
Here's to many more years of saving furniture and making it beautiful.
~ Katrina x