This side table has so much presence. Painted in Graphite, and waxed to provide great protection and durability. Solid maple.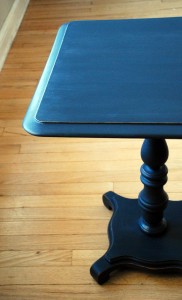 The top has a great scratchy, worn effect. I've gently distressed the edges evenly on the top and legs, which gives good depth to the finish.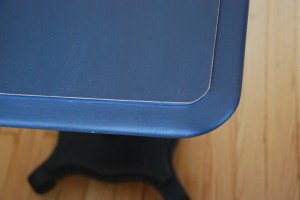 I love the beautiful, thick turned leg on her. And also the base is particularly lovely with its curves. I've done some even distressing on the base to really bring out the edges.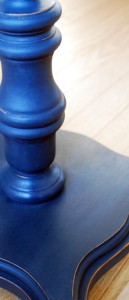 (She's not this blue — it was just the light. The grey of the other pictures is a better representation of her colour.)
She does have one small "blip" — there is a bump on one side of the top that's only noticeable if the light hits it a certain way. It's just part of her character though, so don't discount her for it, just love her more!
You can see it here on the lower left side of the table top: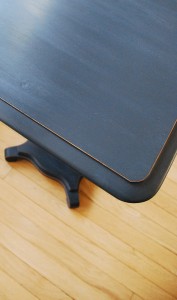 Looking for a good home! Sure to add style to any room.
$60