I'd forgotten how much I enjoyed using milk paint. And then these adorable boxes arrived at the Malenka Originals shop…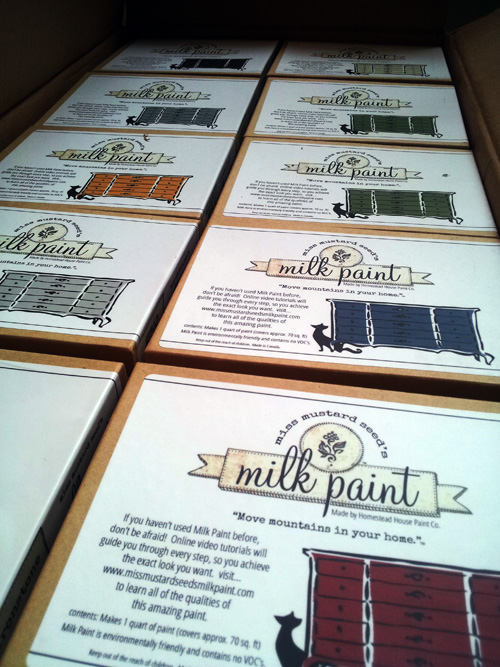 Since becoming positively addicted to Chalk Paint™ last year, I didn't touch any other product. I'd used milk paint a few times in my pre-Chalk Paint days, and had good results — like with one of my favourite pieces, this little bedside table which I rescued from the side of the road.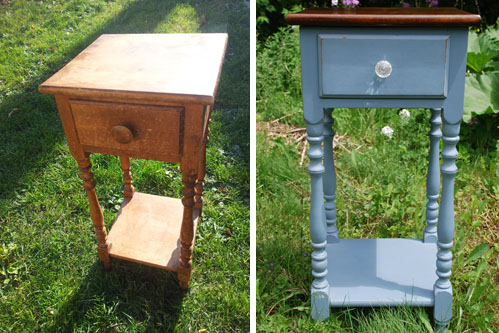 (It's painted in Rideau Blue milk paint by Homestead House, and I used a bonding agent to make it adhere to the previous finish.)
I must admit, back then I found the process of milk paint to be a bit labourious, and I found myself always getting worried over the results. I could never get the powder mixed enough, the consistency was wrong, the colour would change as I was working, etc, etc…
But then Miss Mustard Seed came along and taught me how to let go.
Like a lot of us furniture painting gals (and more guys now, too), I've been very motivated and inspired by Miss Mustard Seed. For many of us, she's the reason we discovered Annie Sloan and Chalk Paint. She managed to blow the DIY-blog world away by redoing her entire dining room in 2-days with Chalk Paint.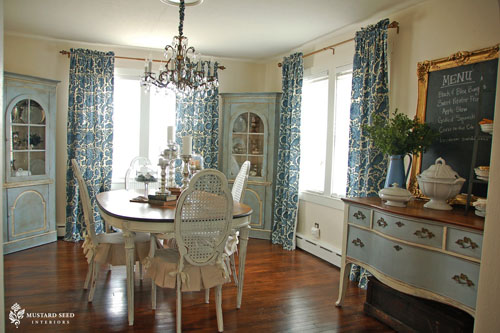 You can read the infamous post here.
Miss Mustard Seed is still a fan of Chalk Paint, but she's also always loved milk paint. I remember googling "milk paint vs. chalk paint" last year, as I tried out both products, and of course, Miss Mustard Seed was several steps ahead of me with a great blog post with exactly that topic (since updated).
But it was this past summer that my jaw dropped with amazement at Miss Mustard Seed. While announcing she was going to roll out her own line of 12 Milk Paint colours, she revealed a new technique for using milk paint — The Chippy.
Check out this beautiful dresser in Mustard Seed Yellow.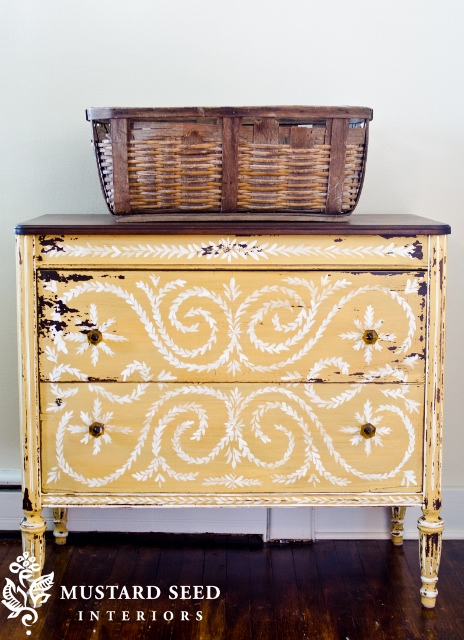 Notice the parts that have chipped off? Look closer…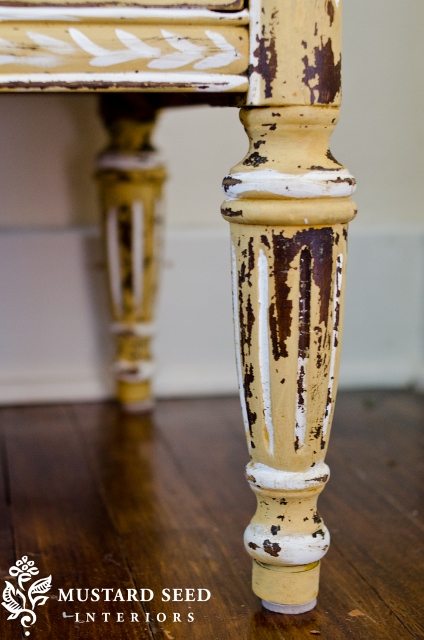 That is The Chippy. Lovely, huge bits of paint flaking off.
Now, you know how much I love Chalk Paint and the zillion ways it can be used. But this was one thing I could never do with Chalk Paint. I can distress it, but because of it's amazing adhering and bonding properties, it doesn't chip (and thank goodness for that — it's one of the things that makes it so outstanding).
But Miss Mustard Seed taught me that milk paint can chip. If you use milk paint over a previously finished surface, it won't take in some places, and will flake off, giving that fantastic chippy look.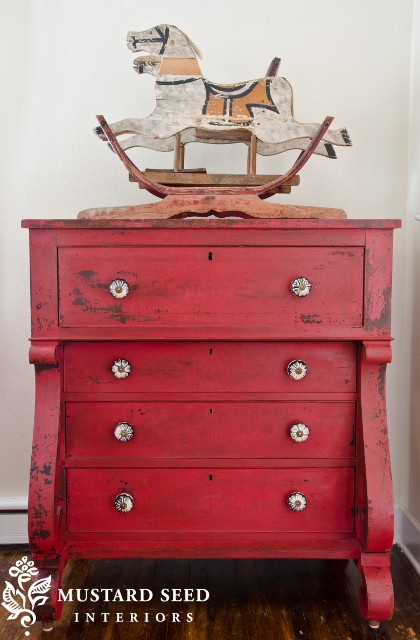 (Well, sometimes it flakes, sometimes it doesn't, but that's all part of the fun.)
And then she did these fantastic video tutorials. Mixing the powder by hand. Leaving the solution overnight. Painting over any surface. Giving up control and letting the furniture decide where IT wants to flake and chip.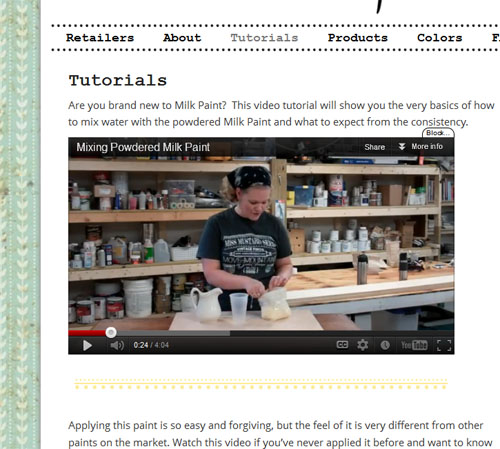 I love this. Basically she was telling me to forget all the things I had previously found fussy about milk paint. Forget being exact about measuring the powder. Forget sanding it down to bare wood. Forget about adding an extender. Forget the bonding agent.  It was like she said, "Go. Enjoy. Don't worry."
I was so excited that in that same moment as I was learning all about her milk paint line, I fired off an email asking to be considered as a MMS milk paint retailer. I got a response back from the lady herself saying, "It would be awesome to work with you." Awesome, indeed.
So here we are several months later, and Malenka Originals is now proud to be carrying Miss Mustard Seed's line of milk paint.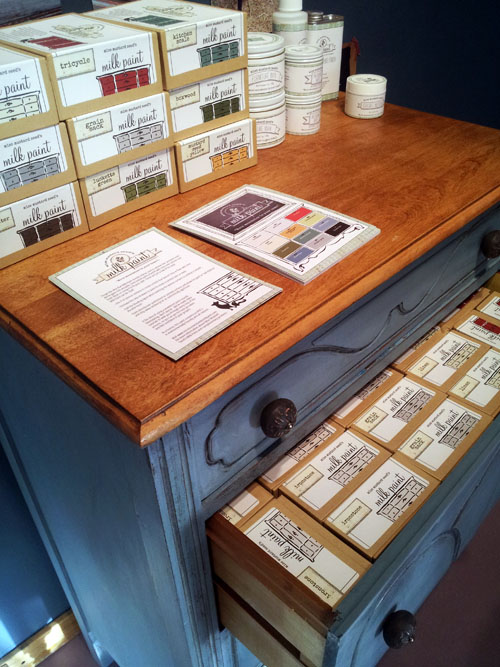 There's a bunch of other products in the line, too, like furniture wax, antiquing wax, crackle medium, and bonding agent (which can be used if you don't want The Chippy). Also I'm so excited to also have her line of hemp oil — I love hemp oil and have used it for a long time for both milk paint surfaces and for bare wood.
And another fantastic part to this story — the paint is being made by Homestead House, a Canadian company based out of Toronto, so it's also a homegrown success story, and a great collaboration with our neighbours to the South.
I'll be posting soon about that dresser above in French Enamel and a mirror I started on today that is really doing The Chippy!
In the meantime, get acquainted with Miss Mustard Seed by visiting her blog. Learn about the milk paint line here. And check out all the beautiful milk painted pieces on Pinterest.
Go. Enjoy. And Don't Worry.
Kx