2012 has been a big year here at Malenka Originals. Although I discovered Chalk Paint™ in 2011, it was in 2012 that it really grabbed hold of me. Not many days went by without picking up a paint brush!
When trying to find a good post to mark the year that was, I realised it's hard to play favourites. So instead of choosing my top pieces of 2012, I've made a list of my game changers — the pieces that really taught me something, or made my work go in a new direction.
****
The bow-front dresser.
This piece has a lot of significance to me. It was my third piece done with Chalk Paint.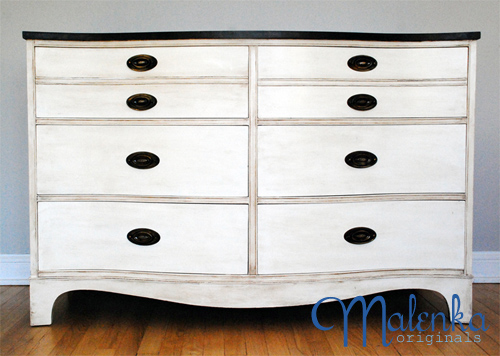 The first two pieces turned out well, but it was while painting this piece that I said to myself — possibly out loud late at night in the cold basement — that my life had changed. (Funny to think that paint can have such an effect!)
So I have a very soft spot for this piece, as Chalk Paint really has changed my life.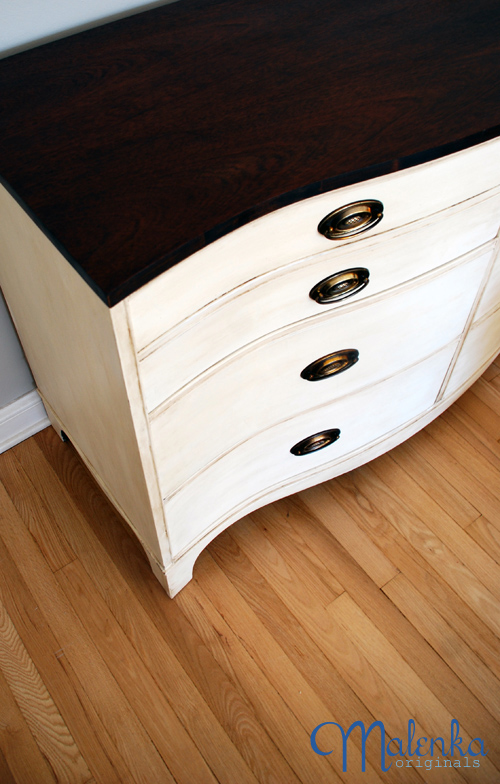 I refinished the top by sanding  it down with my orbital sander, then I stained it with Minwax Dark Walnut, and finished it off with Annie Sloan's dark Soft Wax.
The body is, as you surely guessed, Old White, with clear and dark wax.
This piece also taught me a lot about working with dark Soft Wax. Always go with clear wax first, and apply the dark sparingly. I also used a mixture of dark and clear on parts which was much less intense but still gave some nice antiquing. And I used more dark around the edges of the drawers, and less on the drawers themselves, which gave the piece  some nice variation in tone.
Dark wax is amazing, and the results can be stunning…just give yourself some time and space to play around with it. And remember, you can always go back after 24 hours and paint over the wax if you feel you put too much dark wax on. A light wash of Chalk Paint mixed with water can be just the right amount to lighten it up a bit.
*****
The tallboy.
This piece showed me that a classic piece doesn't necessarily have to be done in a quiet colour.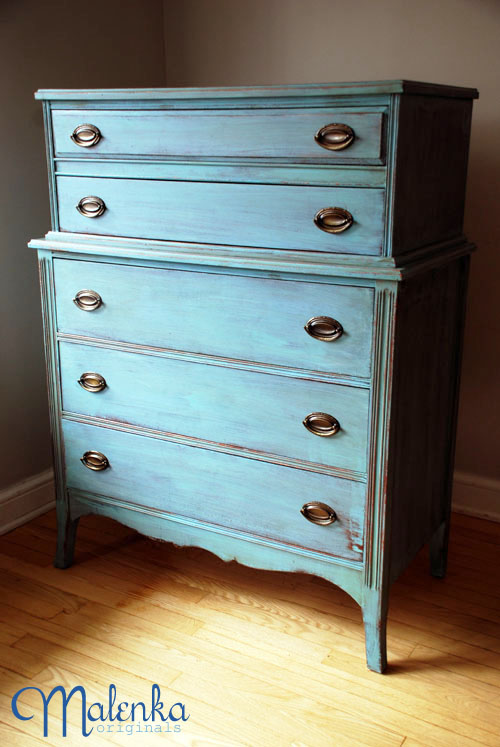 I still get a bit weak in the knees when I look at this one. When I first spotted this dresser at an auction I knew I needed to have it. The two tiers. The fluting details on the sides. The gentle splay of the legs. The shape is like poetry to me.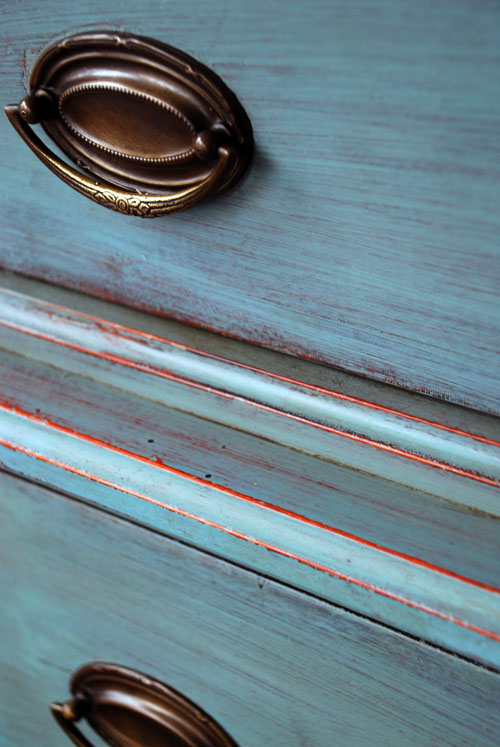 I took a chance and painted her in Provence, my favourite colour. It was a strong choice for such a classic piece, but it worked, largely because the wood popping through underneath calmed the Provence. I also used a lot of dark Soft Wax (after clear), which toned it down.
This look can be done with one thin coat of paint, wax, and a very good sanding with a fine sanding sponge, concentrating on any details or edges. (Then another coat of wax.)
And don't forget — vegetable oil for your old hardware! Don't ask me why, but it works. Cleans and shines them up without taking away the patina.
****
The rustic table.
This piece really showed me the possibilities of refinishing wood.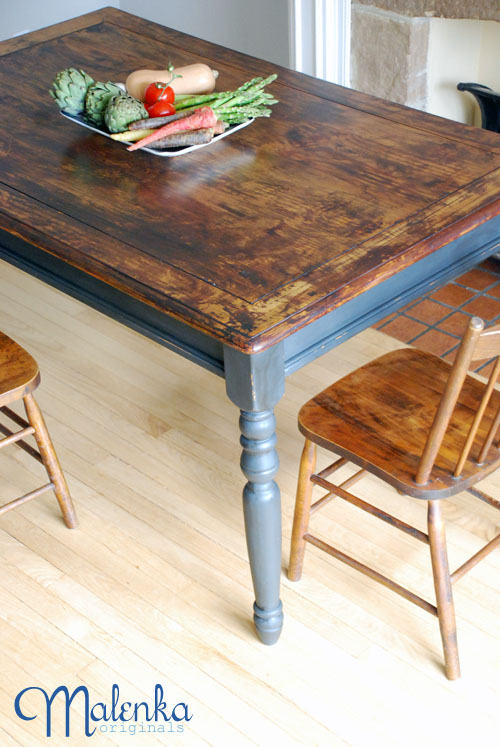 It was once a fairly dull pine table, but with a few different steps, it became a reclaimed wood table.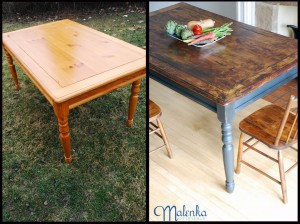 The process was basically to try and prematurely age the wood. After stripping it, I scrubbed the wood. Then I stained it with layers of different stains — Ebony, Gunstock, Dark Walnut — over and over until I was happy with the shade.
I finished it with water-based Varathene, and topped it with Annie Sloan Soft Wax. The legs were painted with Graphite, and waxed with dark Soft Wax. The chairs were a perfect match. I didn't do much except a generous treatment of hemp oil, which is a perfect way to make old wood shine again.
****
The French Provincial buffet.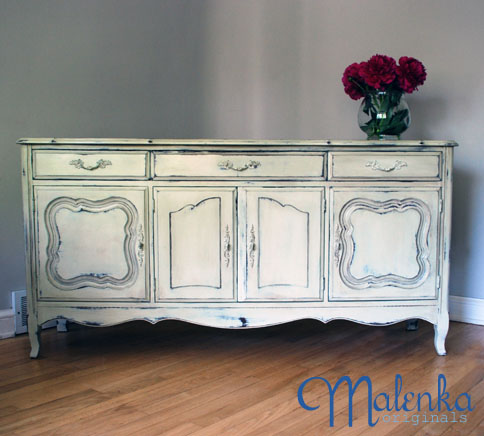 I don't pick up a lot of French provincial pieces. Not sure why. I don't see too many of then, and I also must admit I'm not always drawn to them. Which is why I almost turned my back on this piece when I saw a picture of it in its before state.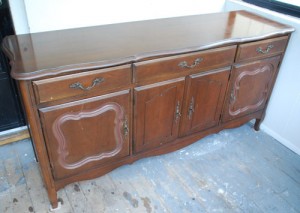 Yikes.
But, the thing is, I am over-the-moon happy that I didn't have to make this decision, as my husband was the one who brought this baby home. And what a great move that was. I love this piece now.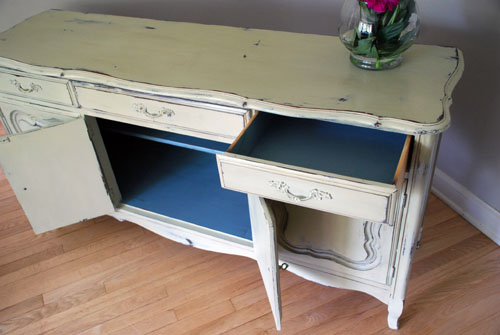 This piece taught me many things. It really taught me the power of paint…how something so dark and heavy can end up being light and wonderful. It also showed me how great Chalk Paint is to mix. I had leftovers of Old White, Versailles, plus a little tiny bit of Napoleonic Blue and ended up with this gentle pale cream/sage shade.
Try throwing your leftovers together — it'll make you feel like a colour mixing genius!
*****
The wood racing stripe.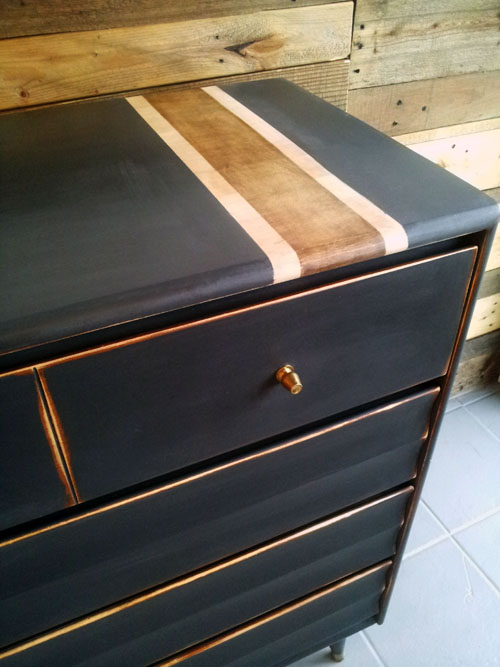 This idea went a bit viral. It may be one of my most popular pieces online to date, with lots of love on Pinterest, and even a version of it done by a lovely woman in the UK.
The natural wood stripe is one that you'll see more from me in 2013.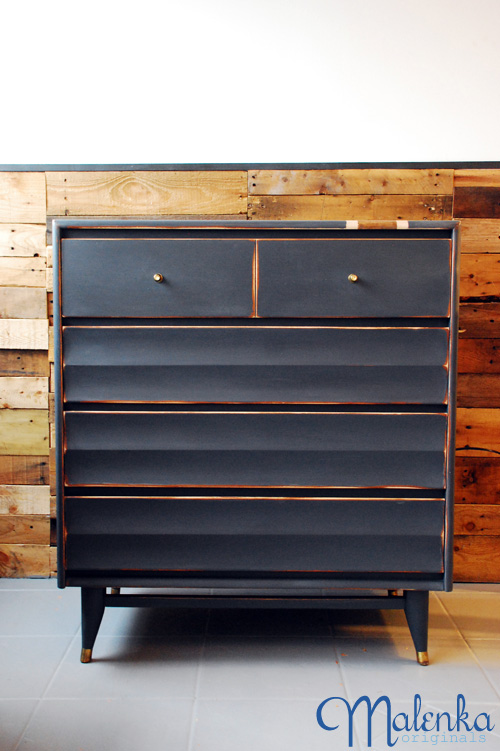 This piece taught me that editing can also be applied to furniture painting. Well, self-editing, I guess…but basically the concept that if you look at a piece, and it just doesn't seem right, go back and keep editing! I love this piece now, but it took me awhile to get it right. After a few weeks of staring at it, I realised the drawers needed to be distressed, so I went back and liberally sanded around them. It was a step I could have ignored, and the piece would have been fine…but sometimes it takes that extra elbow grease to get it just right.
This piece is still looking for the perfect home. Much loved and admired, but the right fit hasn't come along yet. Let me know if you're interested!
******
And finally, a piece I haven't posted anywhere yet.
This is a China cabinet that sat in my living room (like a lot of the furniture waiting to be painted!) for almost ALL of 2012…looking like this.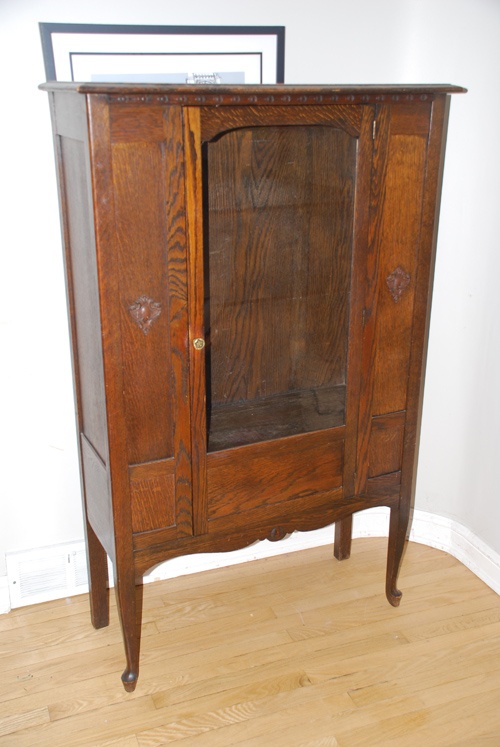 She wasn't too bad before. But I love her now.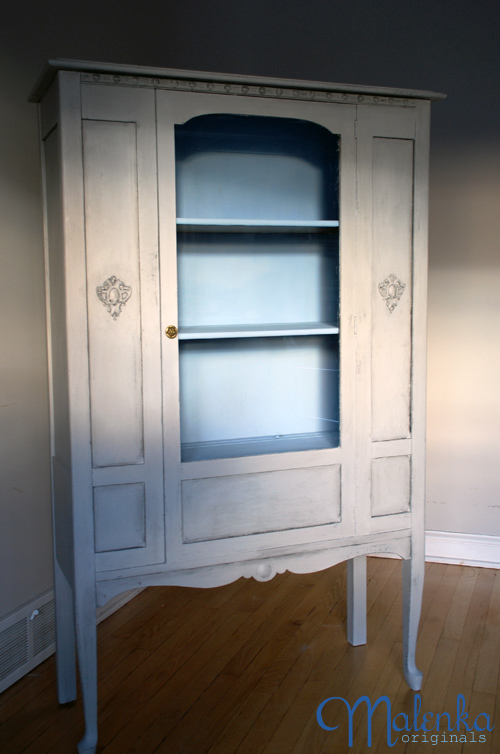 I dilly-dallied on this piece. I didn't know what to do with it, but once I made up my mind and jumped in, it was totally transformed in one day.
I call her the Ice Princess, with that cool Paris Grey on the outside, and even cooler Louis Blue on the inside. It reminds me of a crisp, sunny winter day.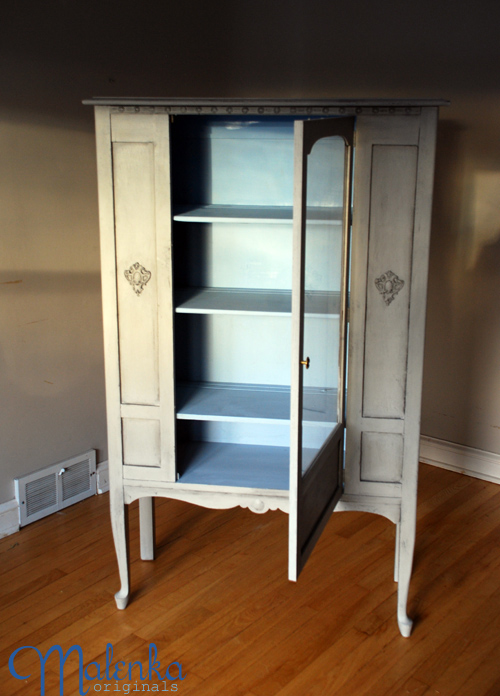 The lesson of this piece is to just jump in and do it. If you have a piece you're waffling on, just pick something and get going. Your only regret will be that you didn't do it sooner.
******
Thanks for following along with me this year. 2012 has been a pretty wild ride, and your support and encouragement have been amazing.
I wish you all every bit of happiness possible in 2013.
– Katrina xo
(I've closed comments because of an insane amount of spam, but I'd still love to connect with you so please jump over to my Facebook page to say hello!)