The crunch is on — less than two weeks until Christmas! If you're still looking for some gift ideas, we have a few suggestions…
We're still offering our special Christmas Starter Kit!
A great gift for someone wanting to get into Chalk Paint™, or the perfect opportunity for you aficionados to stock up and get a deal.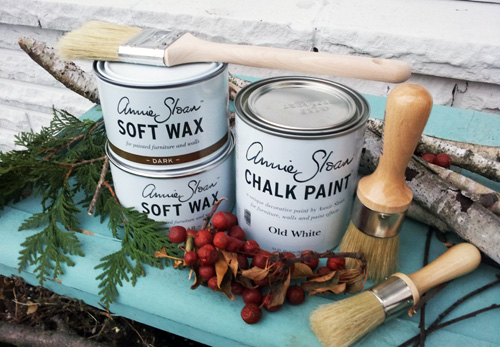 The starter kit includes:
– A quart of Chalk Paint in your choice of colour ($42 value)
– Dark Soft Wax ($32 value)
– Clear Soft Wax ($32 value)
– Madeline Medium Wax Brush ($26 value)
– Madeline Mini Wax Brush  ($20 value)
– 2″ Canadian-made natural bristle paint brush ($14 value)
A total value of $166, but available for only $135!
This special will only be available until December 23rd.
(Sorry, no substitutions on product.)
*************
We have another special deal, on now until December 23rd…
What better gift for the Chalk Paint™  connoisseur? The candles and diffusers are made from high-quality fragrances, and have been inspired by six historic French locations: Paris, Versailles, Aubusson, Antibes, Provence and Burgundy. The scent of each is divine, and will fill the home with subtle, yet long-lasting and beautiful scents.
**************
Annie's latest book just arrived yesterday!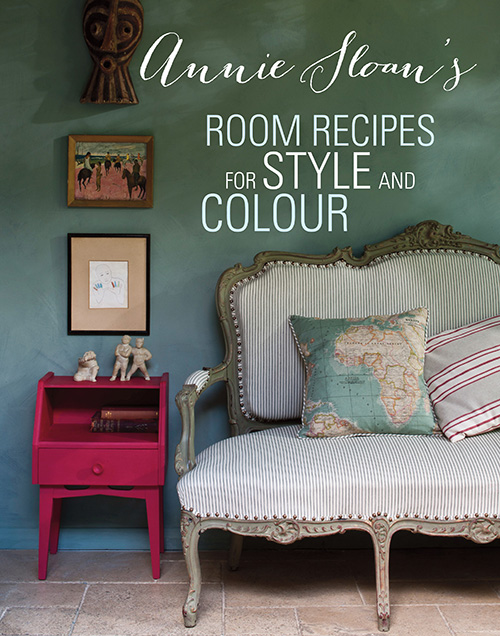 A beautiful hardcover book, Room Recipes explains how to achieve your chosen style by creating moodboards and analysing key factors – scale, focus, display and layout.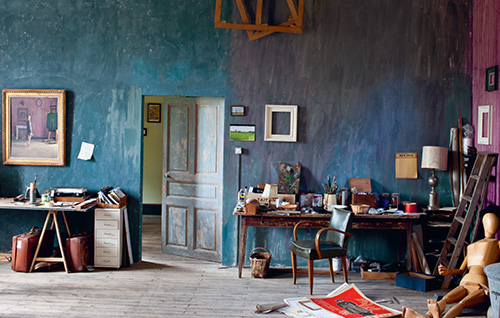 Annie examines nine popular styles: Boho Chic, Neoclassical, Vintage Floral, French Style, Swedish Style, Coastal Style, Classic Country, Modern Retro and Rough Luxe. Then she offers the key techniques you'll need to recreate these styles in your own home.
Annie Sloan Room Recipes (Hardcover) – $42
**********************
We also have gift certificates!
Either come in and pick up a cute painted-brush gift certificate (or we can mail it to you!). Or a PDF gift certificate can be e-mailed.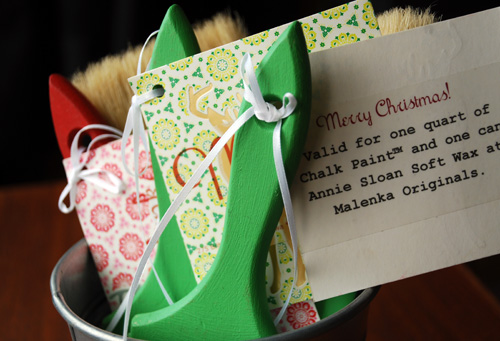 Available in any amount or type of product. Call us at the shop for more details at 613-695-8558.
*****************
And one more great gift idea, Annie Sloan Aprons – $30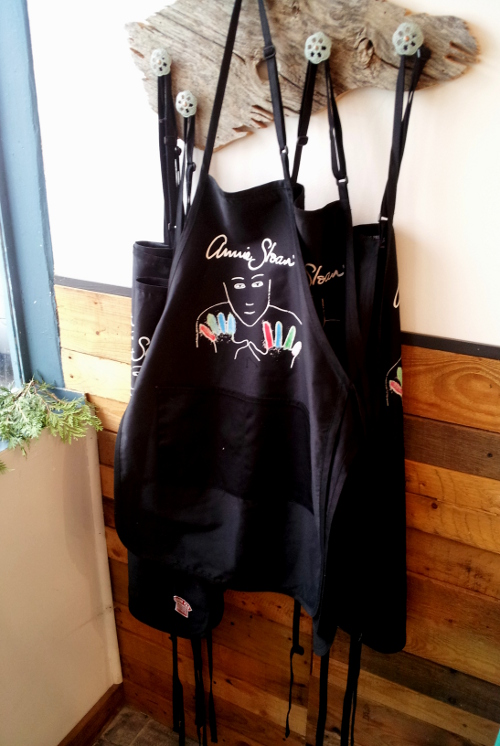 With adjustable neck straps and front pockets, it's the perfect accessory for anyone who loves painting. No need for painting clothes! Just pop this baby on and get going.
****************
Our last day open before Christmas will be Tuesday, December 23rd from 10-5. Please check out our Christmas hours for more details about openings during the holiday period.
Enjoy the season!