This past September, Malenka Originals was chosen by Annie Sloan to be part of her #25Project.
As part of Annie Sloan's 25th anniversary celebrations, anyone from around the world could nominate a local space they felt deserved an Annie Sloan makeover.  There were hundreds of entries, and from these Annie selected twenty-five.
We were overjoyed to be the only place in Canada chosen to partake in this important project!
Ottawa Community House (OCH) submitted an application to have the lounge and kitchen of 215 Wurtemburg Street transformed. The building is home to 120 people.
OCH is Ottawa's largest social housing provider and provides homes to over 32,000 people with special needs in the city.  As a large non-profit organisation they often have to prioritise structural repairs and renovations over aesthetic changes to the building, so the space had been left looking very tired and dated, with scratched and damaged furniture.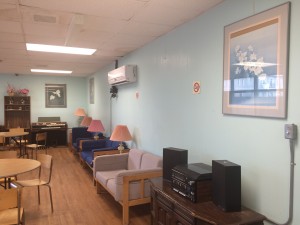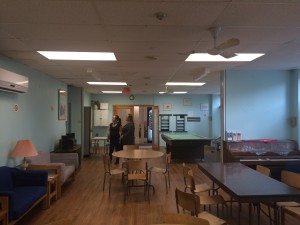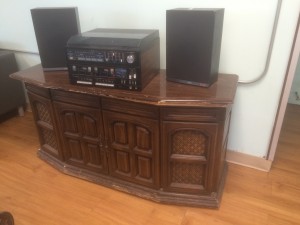 Initial ideas were brought together at a meeting between us and OCH, discussing the wants and needs of the people who use the space, and then, on 8th September the transformation began!
We were joined by volunteers from OCH, as well as 11 enthusiastic volunteers from Malenka Originals: Agata Moyana, Cathy Haley, Caroline Picard, Jessica Marcil, Cindy Hodgkins, Kate Hardie, Louise Skabar, Yvele Paquette, Laurie Jong, Amal Rashid, Teresa Shevel. (It's amazing to think that all of these lovely volunteers are people we got to know through the shop. Two of them were even part of the very first workshop I ever held, back in 2012! It goes without saying that we have the best customers in the world.)
The day started with words of thanks and support from the Mayor of Ottawa, Jim Watson, who stressed the importance of giving back to, and caring for the community.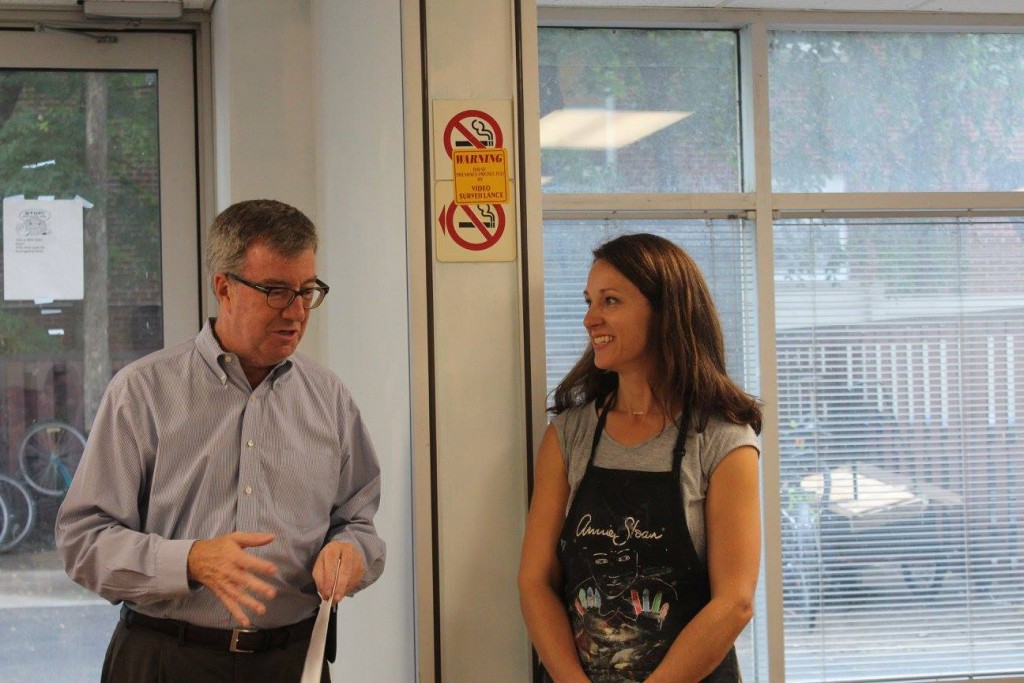 We were also joined by local Councillor Mathieu Fleury, and OCH CEO Stéphane Giguère.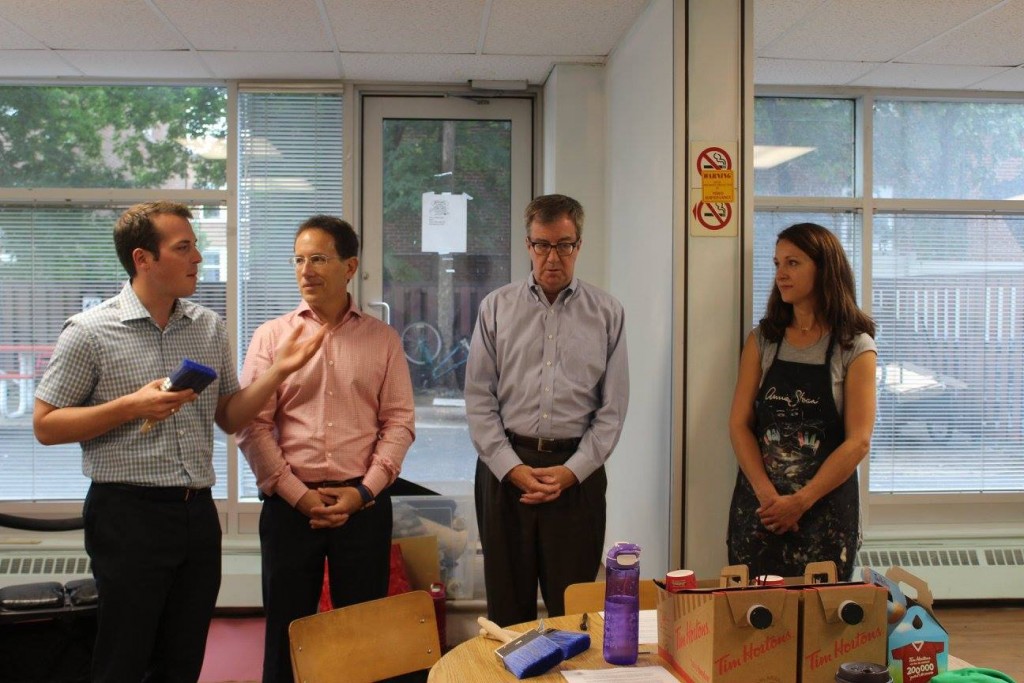 Here we all are — fresh and ready to go (and jacked up on coffee :)– just as the work was about to kick off.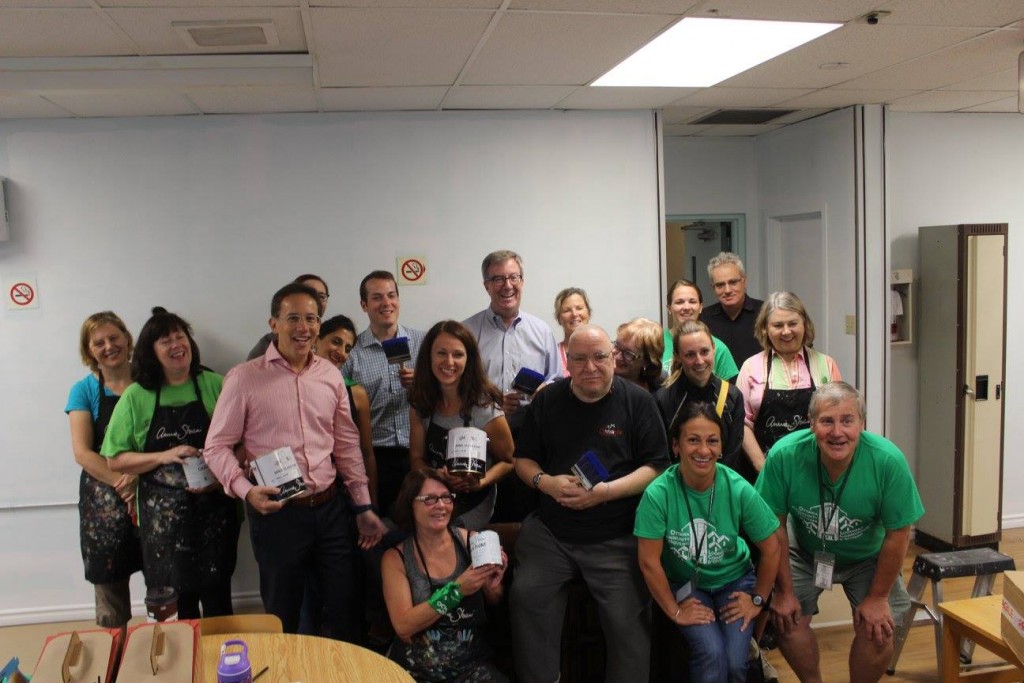 After the speeches were done, the work got underway. One team started by painting the main area in Paris Grey, and another smaller team worked on painting the walls of the kitchen in Duck Egg Blue.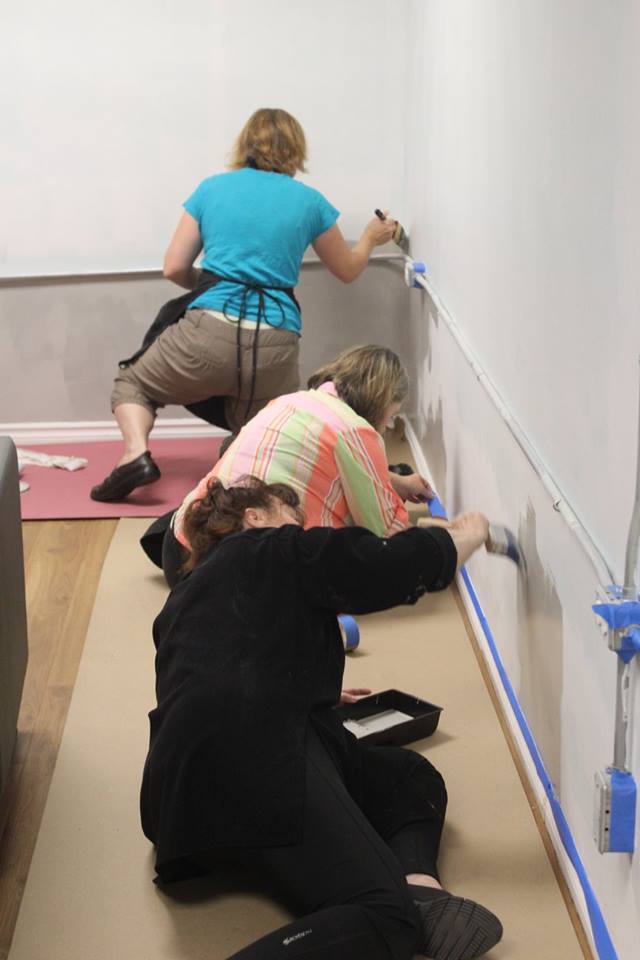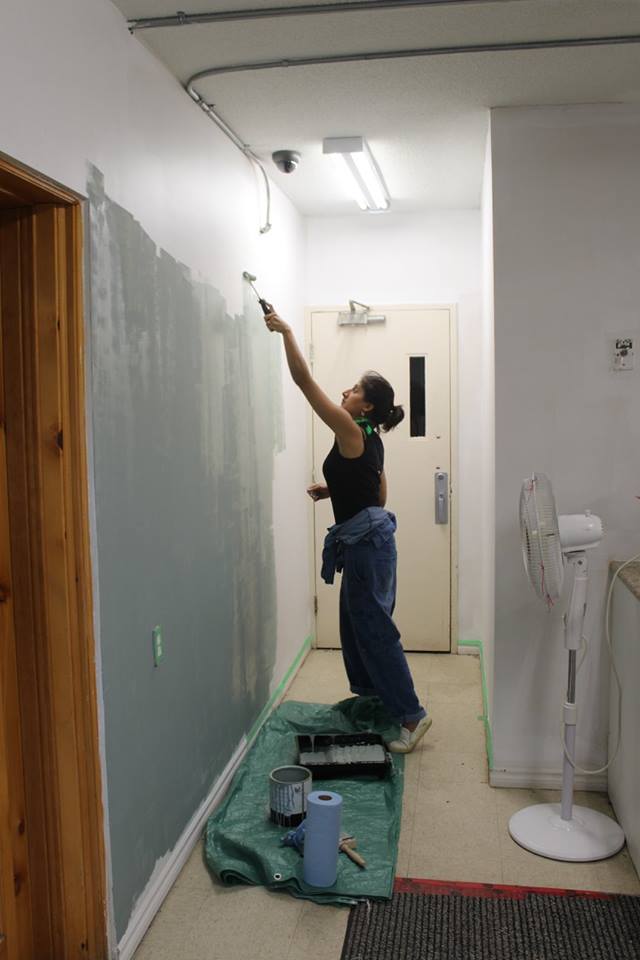 We were excited to finally get to try Annie's Wall Paint, which currently is only available in Europe. (Katrina was very, very, very excited.)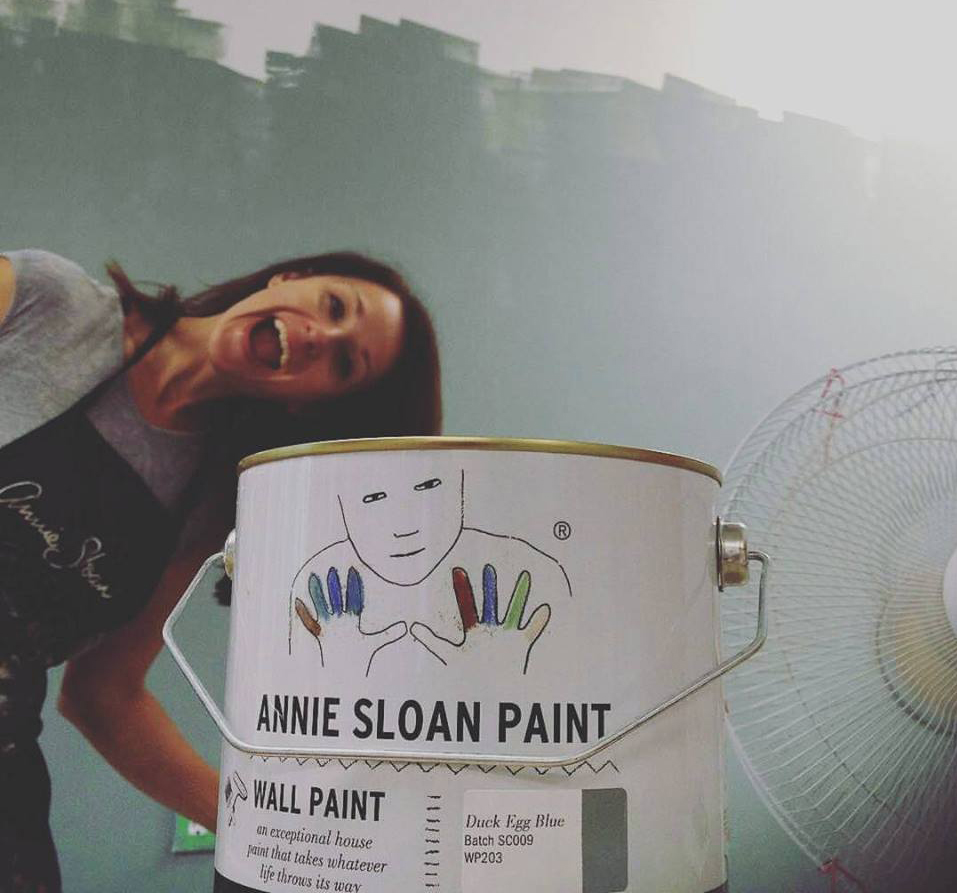 Another team painted the furniture which included an old radio cabinet, a book shelf and 3 small side tables, which were all a mismatch of brown woods.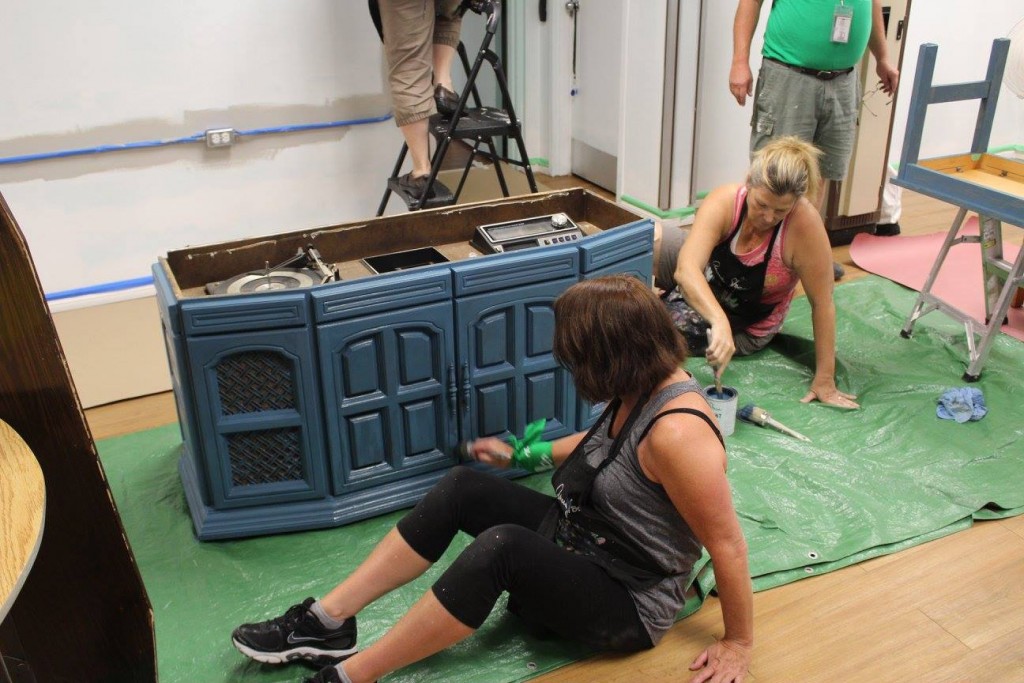 We finished the transformation by hanging a couple of new additions to the wall, donated by Malenka Originals. (Thanks to Maker House Co. for giving us a great deal!) The map of Ottawa-Gatineau now takes the pride position above the newly painted radio cabinet, and the blackboard is a handy way for residents to leave notes for each other.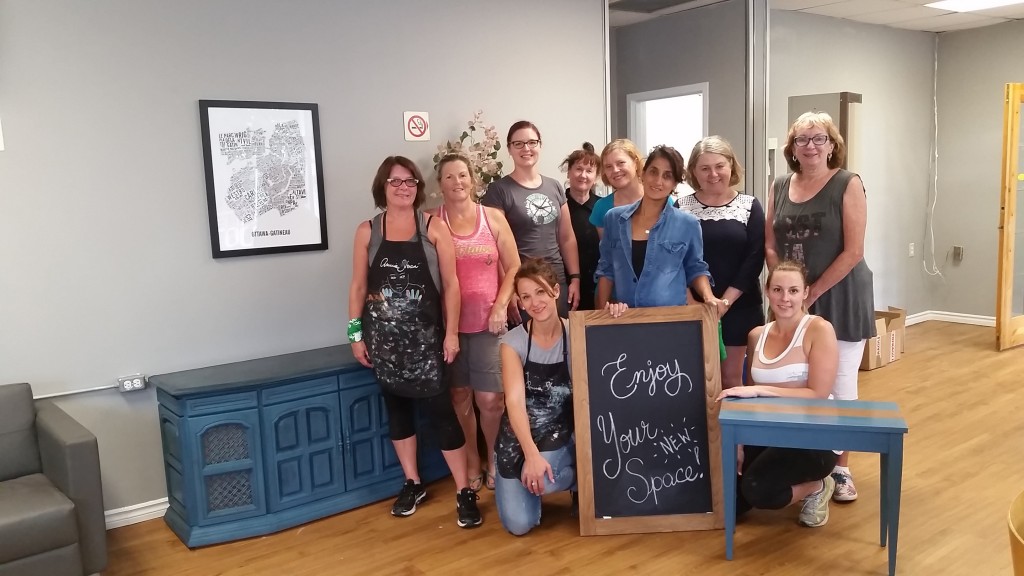 We even got some attention from a couple news outlets. Click on the photo to access the full article.
---
---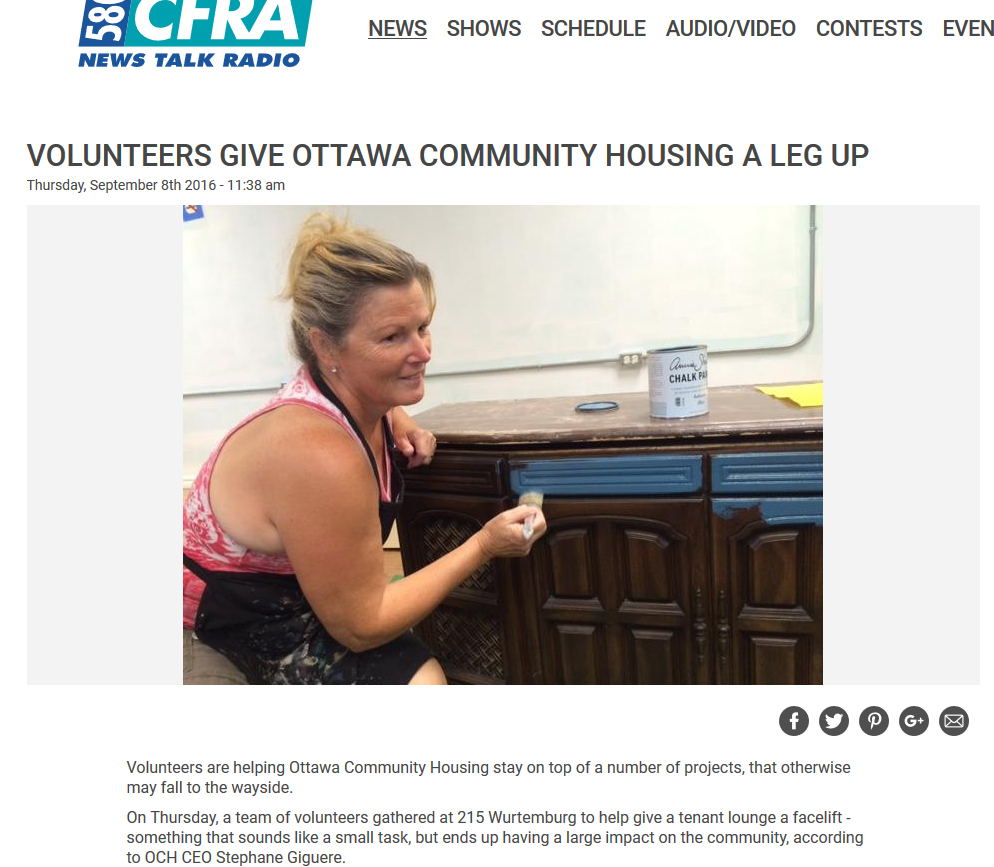 ---
As tired as we all were by the end of the day, everyone agreed how satisfying and fulfilling the project was. It was a great way to spend the day.
And most importantly, we hope the residents of Wurtemburg Street enjoy their new space for many, many years to come.
~ Katrina x