To celebrate Canada's 150th, we collaborated with eight local furniture painters to bring a unique display of furniture to Malenka Originals.
Each piece has a story, and evokes feelings of Canada in a different way.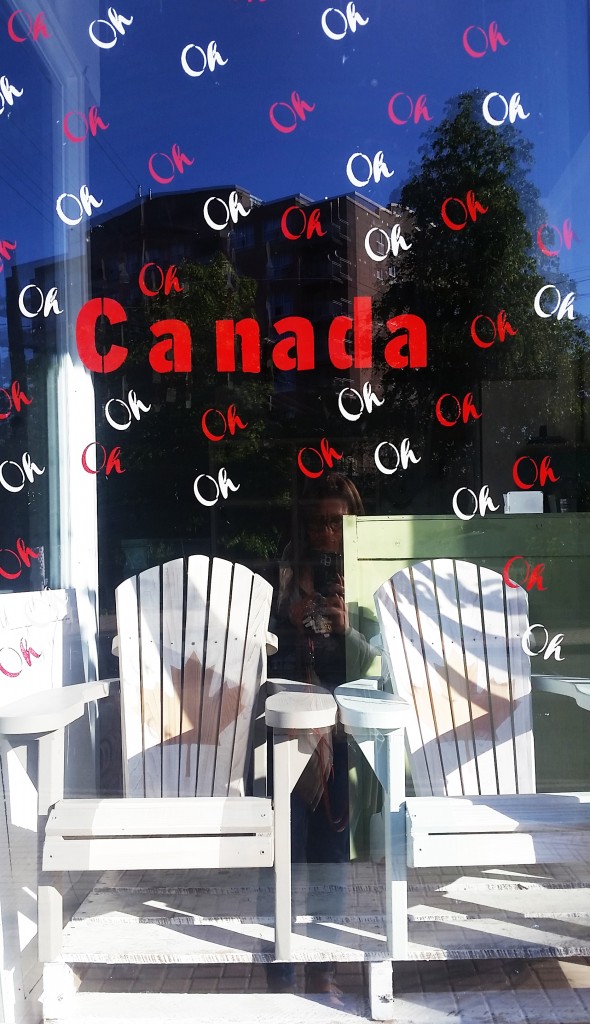 The pieces are all for sale, and will be on display at Malenka Originals in Ottawa from now until the end of July. 
Read on, have a look at the pictures below, and then stop by the shop in July to see for yourself!

***********
Originally from Venezuela, Cristina Maal — of Gar-art Sale — moved to Canada in 2007. Two years ago she was overjoyed to became a Canadian citizen.
Cristina first visited Canada in 2001, as a young student. The internet was just in its infancy then. While searching around online for Canadian resources and visitor tips, she started to notice websites that had a dot-ca. This was a new thing, as most sites at that time were dot-com. She remembers how the dot-ca sites really stood out for her. It was new and different. Which is why she painted this groovy dot-ca on top of her piece, to remind her fondly of her first visit, and how excited she felt about Canada.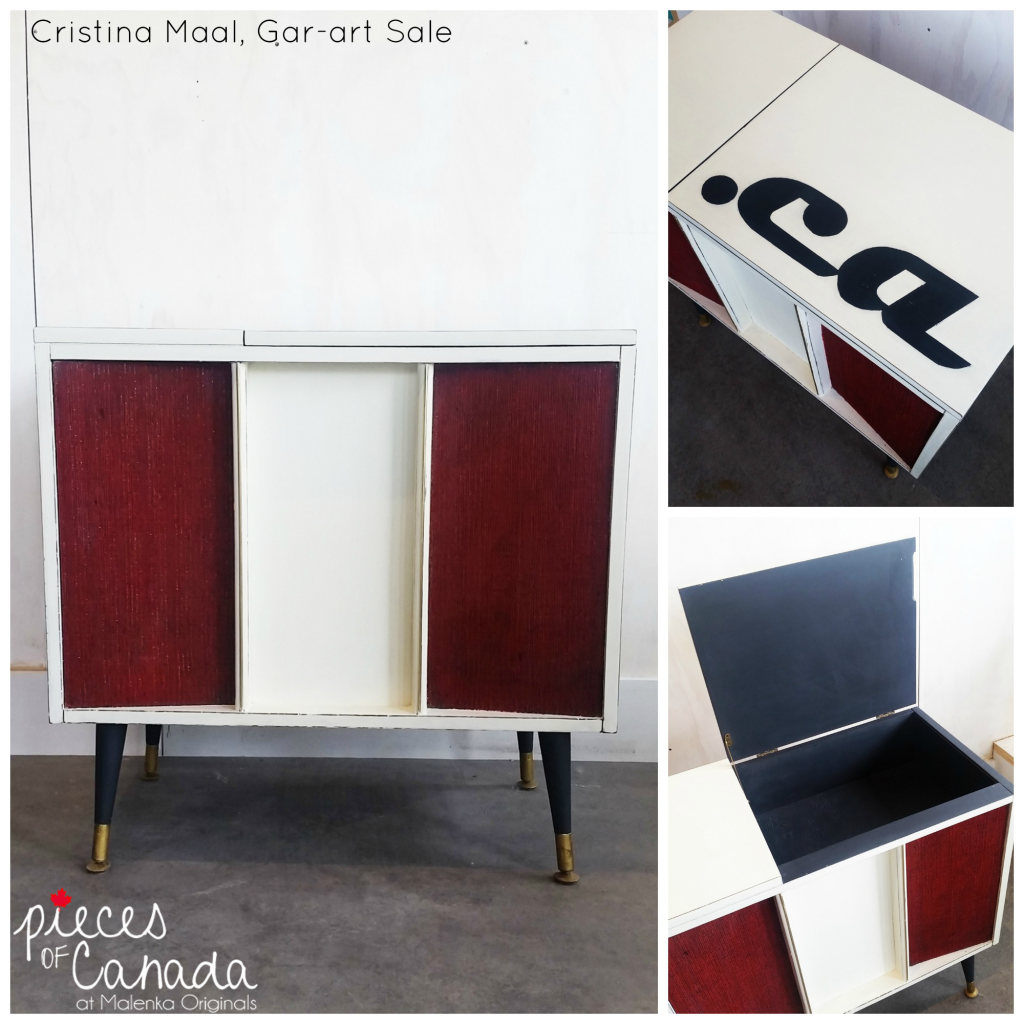 Cristina also used the old speakers in this cabinet — and the separation into three parts — to mimic the look of the Canada Flag from the front.
Cristina's piece is for sale at Malenka Originals for $250 + tax.
*********
Michelle Muncaster from A Refreshing Change not only dug deep into her childhood memories of Canada for her piece, but also dug deep into her stamp collection!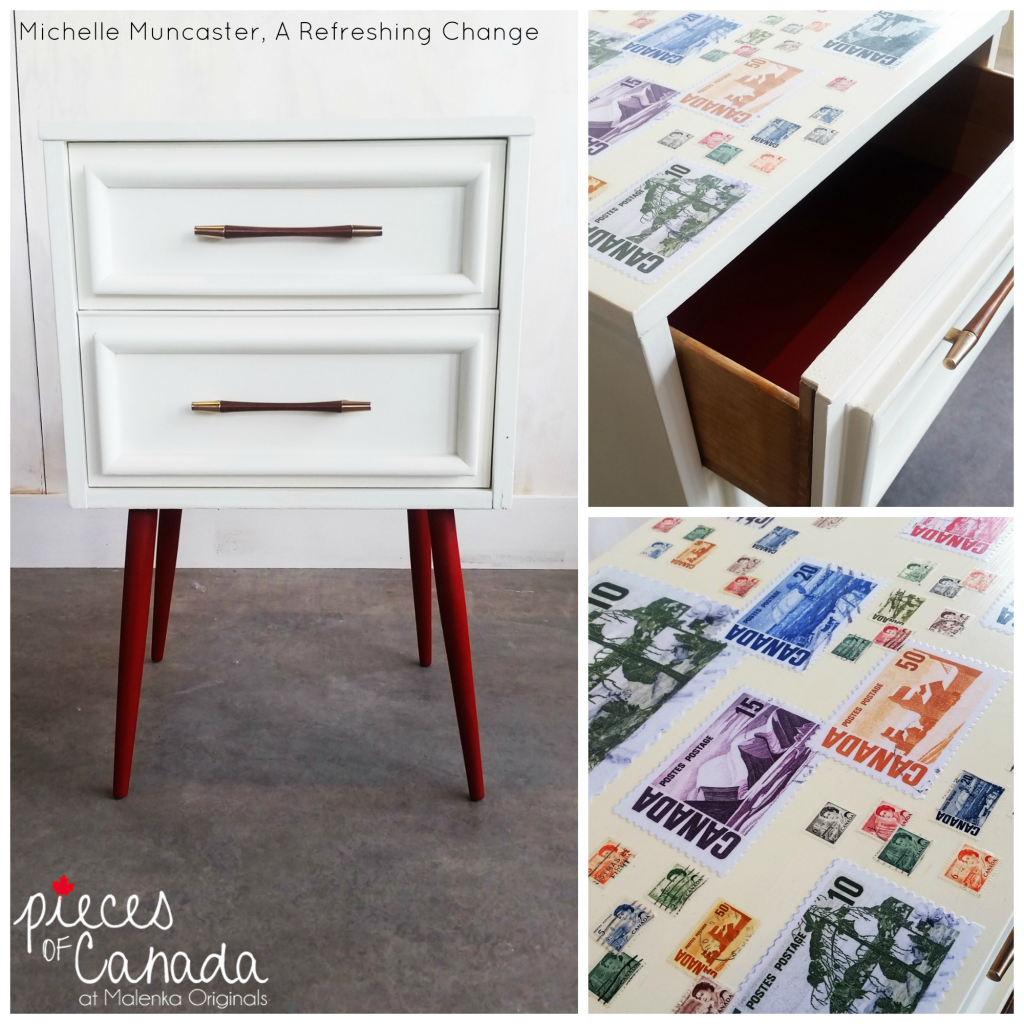 The stamps on her piece were issued in 1967 to commemorate Canada's centennial. As a child, she would look at these stamps when visiting her Grandparents who had a Centennial collector's box. She was fascinated by the art on the stamps. When asked to produce a piece of furniture for our Pieces of Canada display, she went back to her stamp collection for some inspiration.
The small stamps on the table top are original stamps from her husband's and her childhood collection.
Michelle's piece is for sale at Malenka Originals for $175 + tax.
*********
Teresa Shevel of Tessie's Creations wonders what stories pieces from the past would say if they could talk, but she bets this vintage suitcase would have a bunch of tales to share. "Maybe it went around the world, but more than likely it travelled within our great country," Teresa adds.
To help preserve this and bring it back from being worn out and tired, Teresa instead gave it a whole new purpose. Thus came the meeting of a vintage suitcase and vintage table legs. A unique piece that brings the past to the present.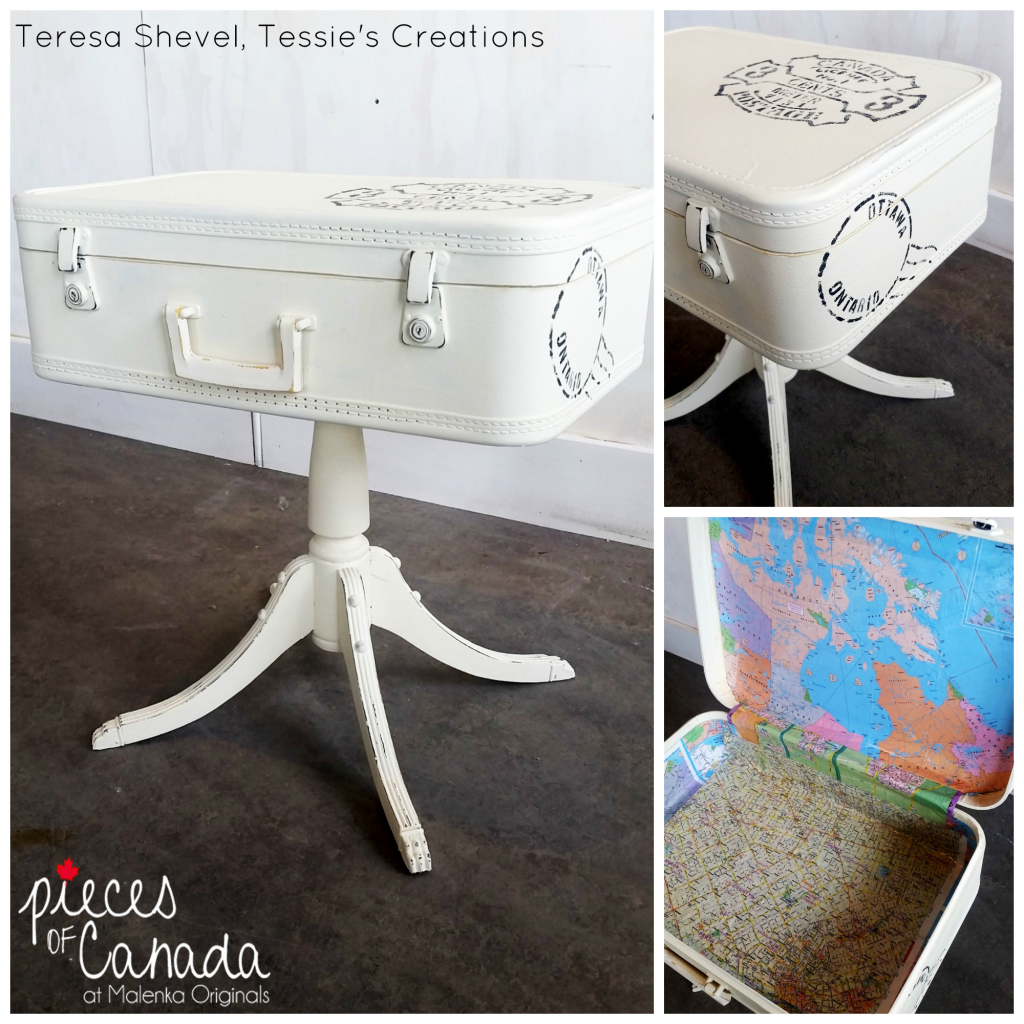 Keeping with the travel theme, Teresa added some much loved road maps from across Canada to the inside.
Teresa's piece is for sale at Malenka Originals for $175 + tax.
*********
The abundance of beautiful green forests in Canada and a love of the outdoors inspired Lisa Silfwerbrand of Recreated Designs to create this piece for our Pieces of Canada display.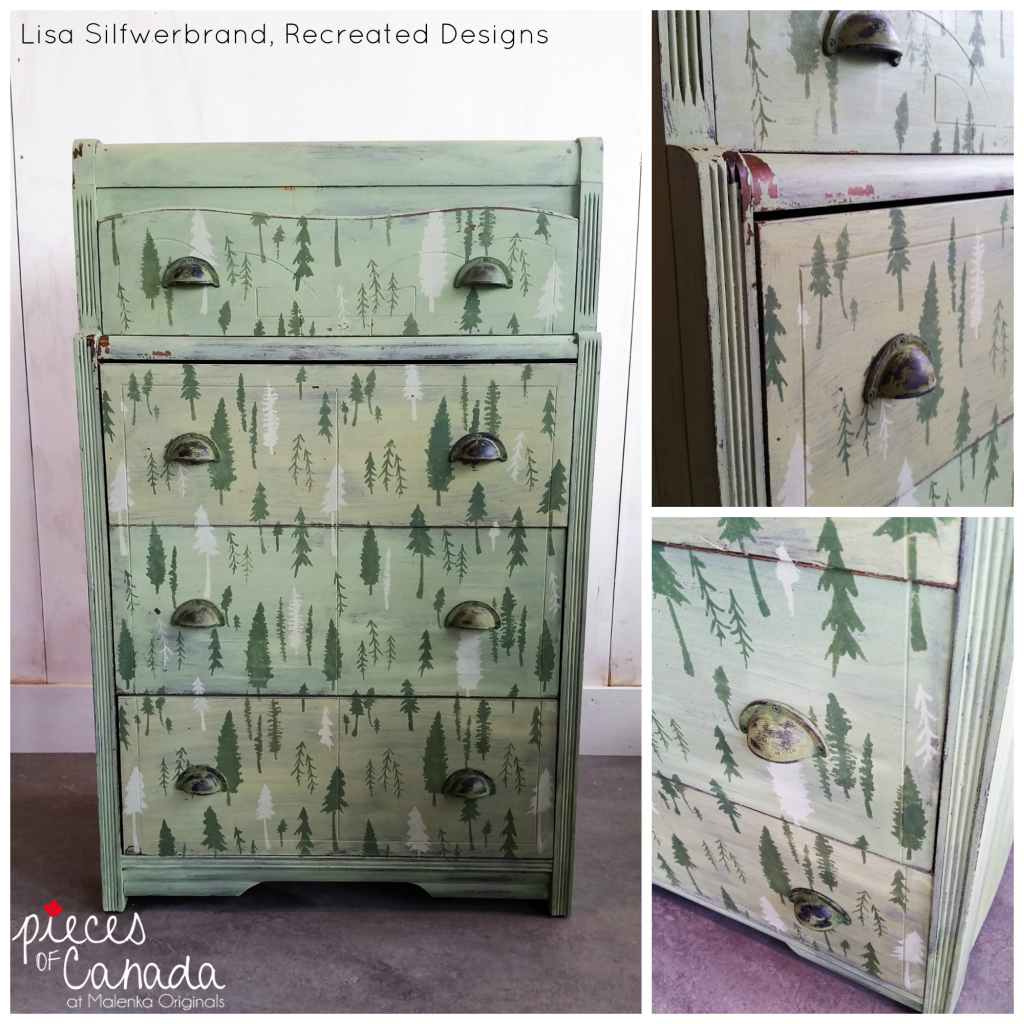 The distressed and perfectly chippy look — showing the deep, rich wood underneath — mixes beautifully with the Royal Design Studio forest of trees stencil.
Lisa's forest inspired dresser is available at Malenka Originals for $375 + tax.
*********
These children's Adirondack chairs were such a pleasure to work on. Handmade locally, using cedar, I wanted some of the original wood to show, but also felt they needed a cool, cottage-y colour. Something soothing and beachy — that feeling of wanting to stay by the water all day.
The Maple Leaf is raw wood, and around it I did a wash of Pure White Chalk Paint™, to keep some of the wood grain showing. The chair on the left was painted in a mix of Duck Egg and Pure White. The chair on the right is French Linen.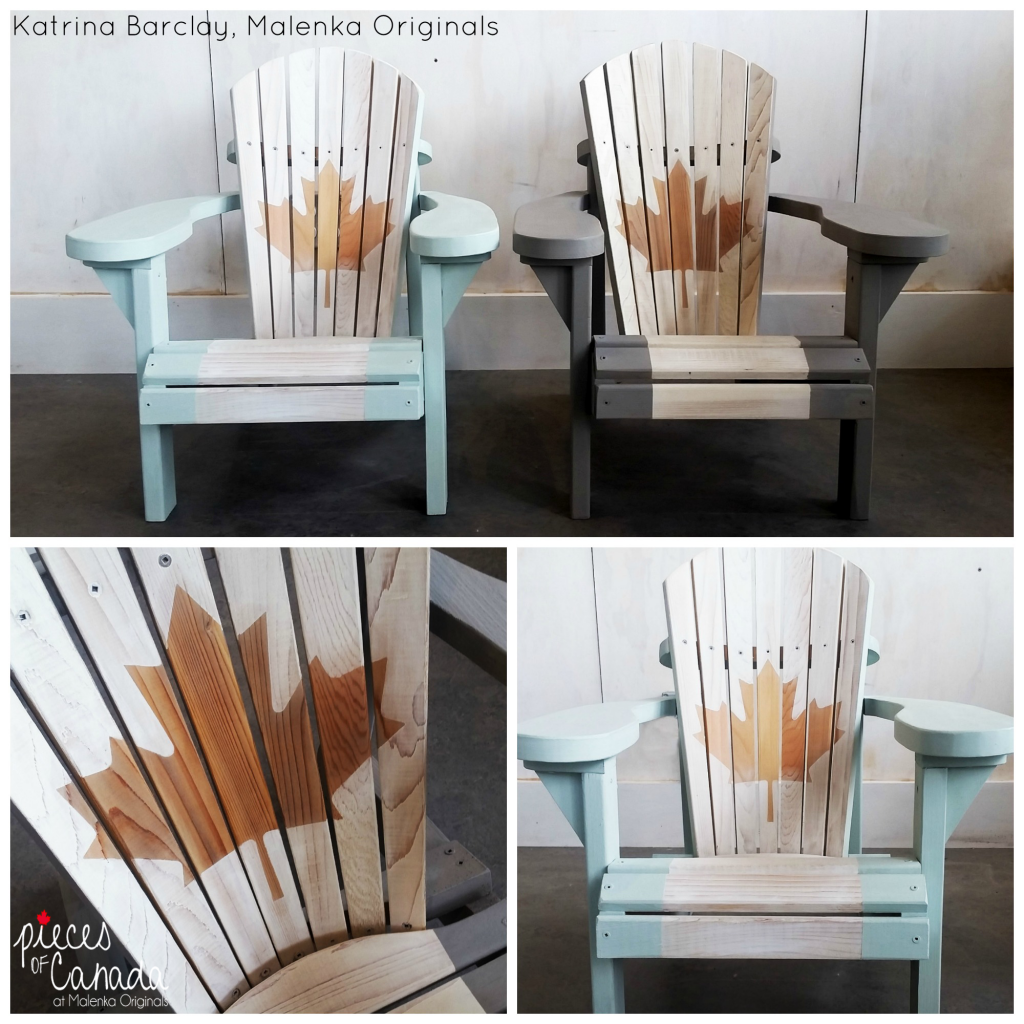 A bit of hemp oil was rubbed into the Maple Leaf to really bring out the colour of the cedar. As Chalk Paint™ works great for outdoors, the chairs don't need any finish, however they were sanded smooth with a fine Annie Sloan sanding pad to smooth and strengthen the surface.
These cedar children's Adirondack chairs are for sale at Malenka Originals for $150 + tax each.
*********
As the daughter of a long-established Ontario paddle maker, Jennifer Bell knows a thing or two about paddles. And as an interior decorator, she also has a keen eye for colours and designs. Jennifer has painted a few paddles for Pieces of Canada, and she will also be running a paddle painting workshop at Malenka Originals in July. Click here for more info and booking.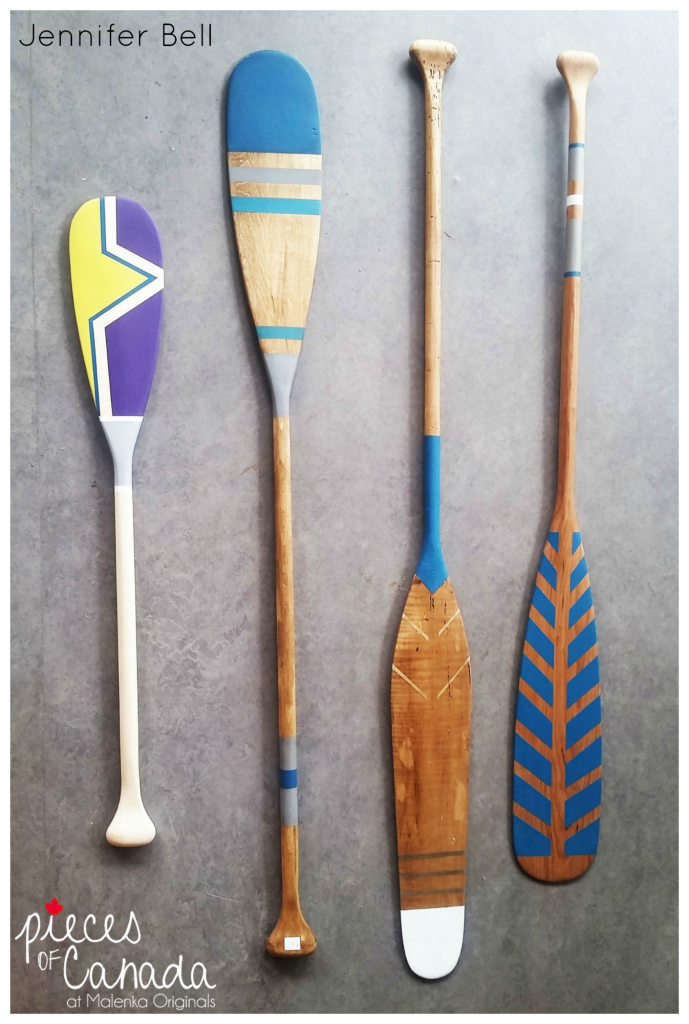 Jennifer's paddles are available for purchase at Malenka Originals.
*********
Local designer Amal Rashid of Salsa Bruce took a twist on the much loved Bay blanket stripes with this reclaimed wood coat rack.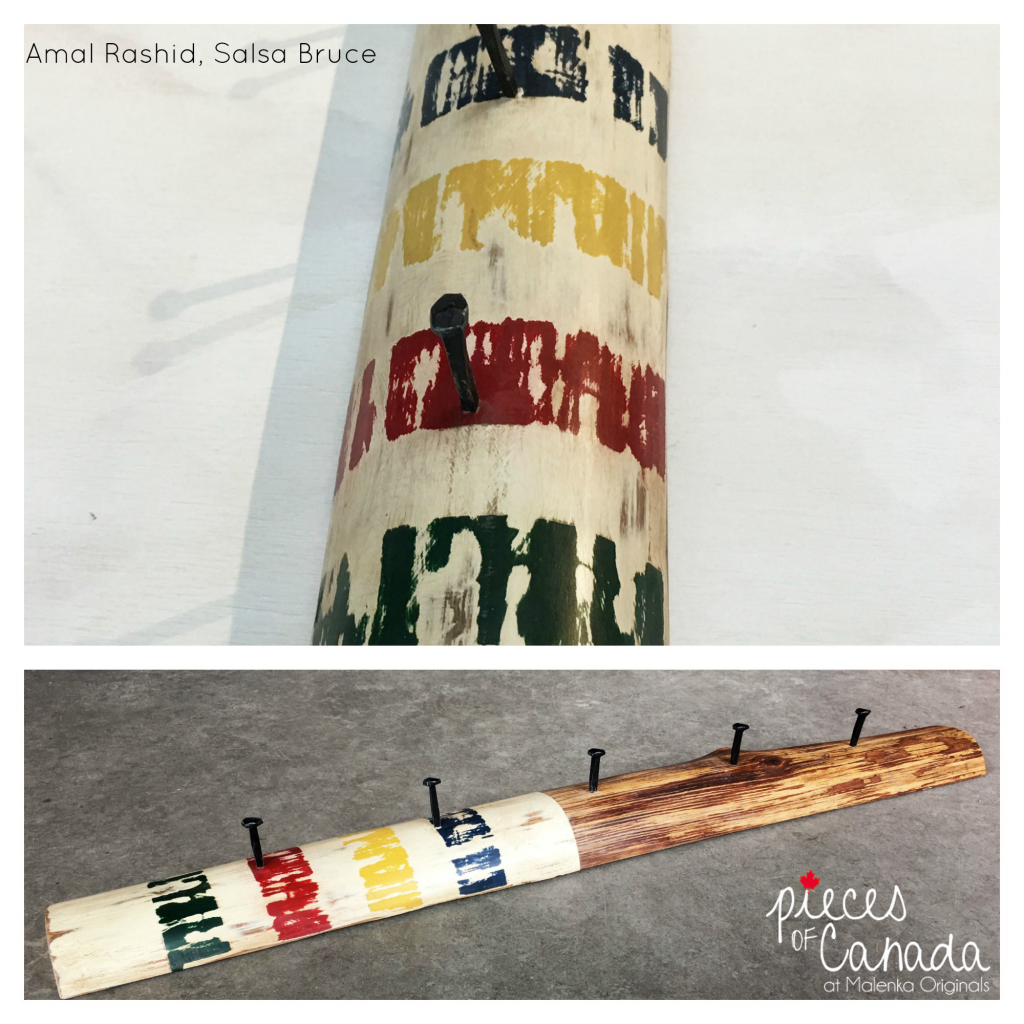 Hand-painted, waxed and distressed, it has the feeling of true age — 150 years, even — but with a modern appeal.
Amal's Bay Blanket Coat Rack is available at Malenka Originals for $65 + tax.
***********
And last but not least, what would Pieces of Canada be without a large dose of red? This stunning solid-wood dresser was painted by Ulla Kourany of Ulla K Distressed Furniture Creations.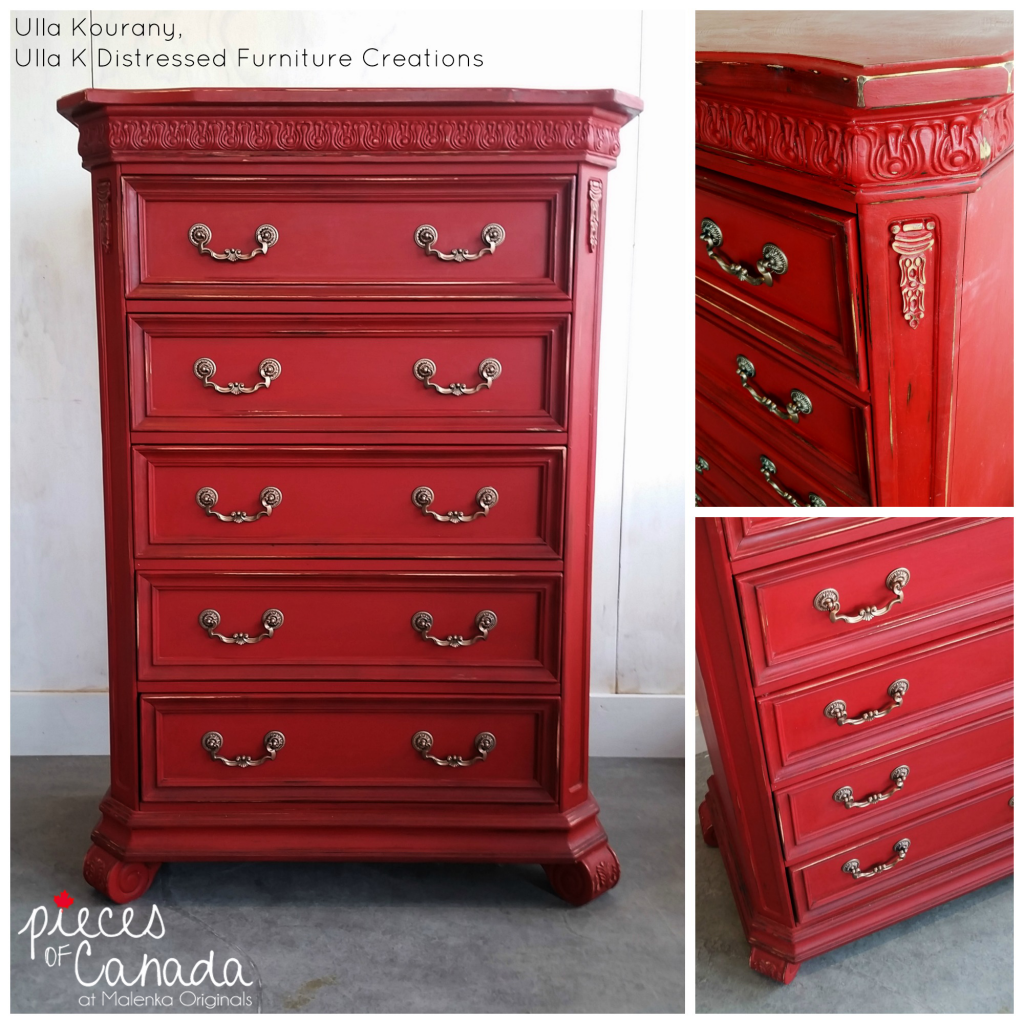 Using Annie Sloan's Emperor's Silk Chalk Paint™, it's the perfect shade to get those Canada Day juices flowing.  Some Dark Chalk Paint™ Wax was added to enhance the details, as well as distressing on the edges and corners.
Ulla's dresser is available at Malenka Originals for $650 + tax

*******************************
If you are interested in any of these pieces, please email us at info@malenka.ca, or call at 613-695-8558. All pieces will remain at the shop (even if sold) until the end of July. Make sure to pop in and have a look at what these talented local painters have done.
Happy 150th Canada!
– Katrina and the Malenka Originals team x