It's been a pretty amazing week, all in all. I've met some great people and have seen how excited Ottawa is to have Chalk Paint here in the city.
My shop is still a work in progress, but I want to share some pictures of its transformation over the last month.
Here's a before and after of the shop front. That's how I first saw it. For an even earlier picture, see my post of the shop when it was a pizzeria.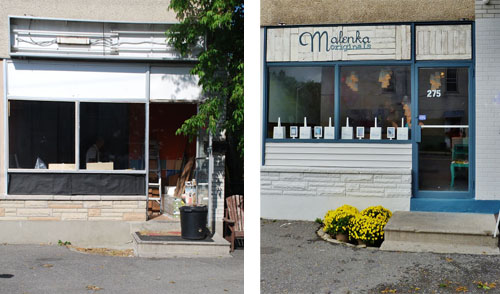 (The outside was all painted with Chalk Paint, if you're wondering.)
I sadly don't have any pictures from a couple months ago when there was a wall through the front of the shop, and some horrid orange paint. Here's how it looked about a month ago.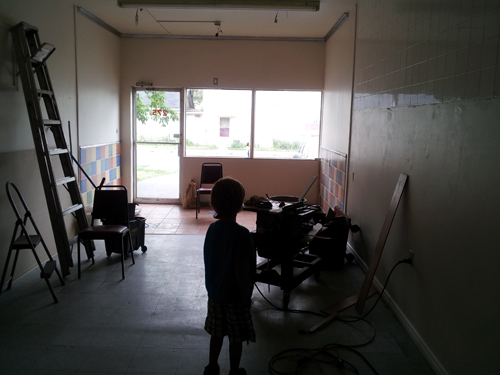 Note the ugly wall tile at the front, which has now lovingly been replaced by the reclaimed wood wall.
I'm sure that little guy was looking around wondering, "Mommy, what are you thinking?"
Oh wait, no, he's wondering how to use that saw…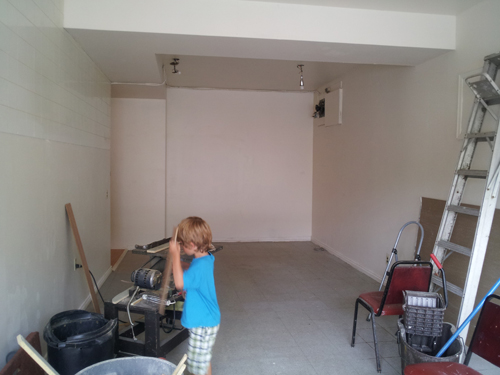 What you can't see in these pictures is the grease and blobs of yuck plastered all over the walls. Yes, I know the walls look decent and white here, but trust me, they weren't.
Moving along, here's how it looked about 2 weeks before opening…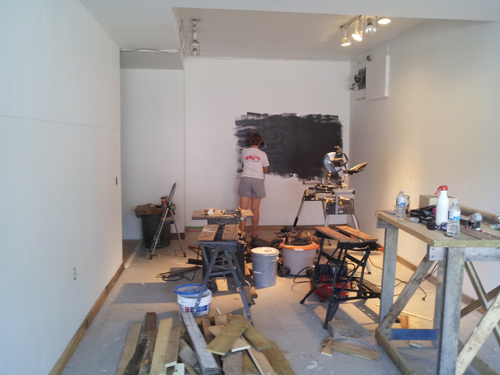 That's my friend Jen who basically saved my life by coming in night after night (on her own sometimes!) to help me get the place in shape. She's awesome.
(In this particular instance she's painting with a magnetic paint which basically never really became magnetic…boo.)
And this is how the place looked the day before opening…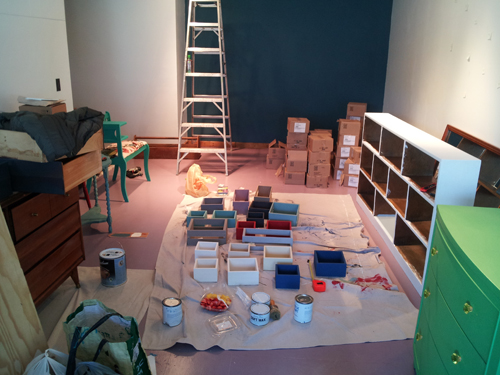 Yikes, you say…yes, I was thinking the same.
But, with a miracle and a few loyal friends, it got turned around by Friday morning.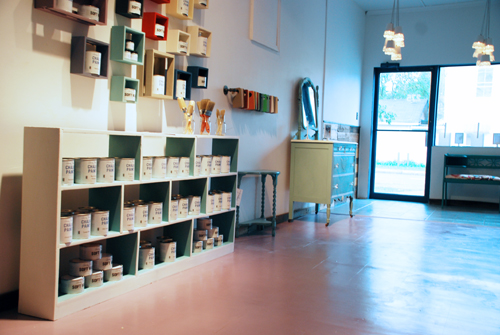 The floors are painted in Annie Sloan's Emile.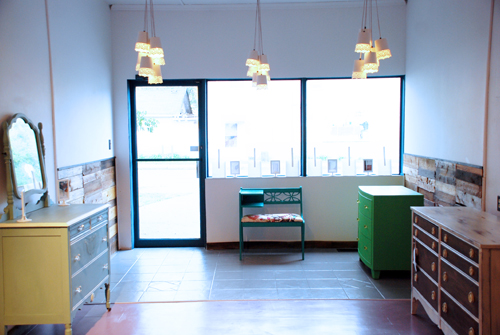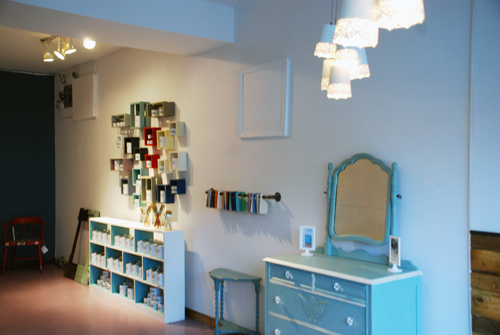 Reception table built out of leftover pallet wood.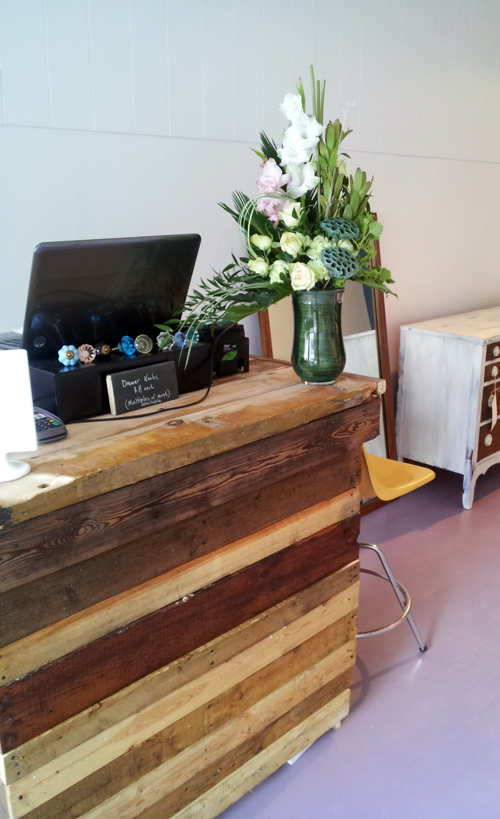 The Chalk Paint™ display.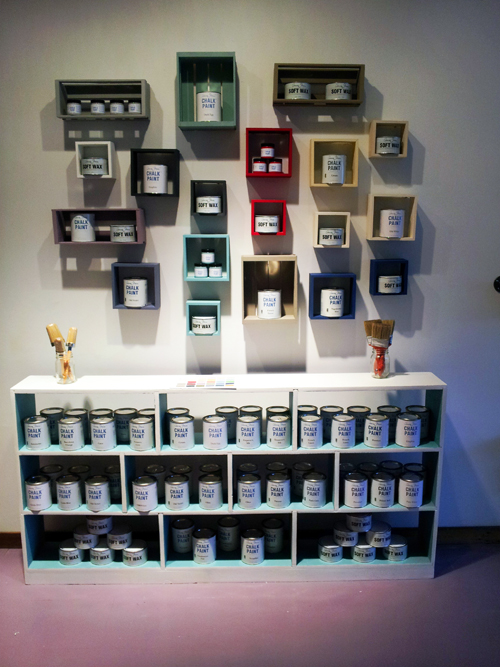 The Chalk Paint colour samples.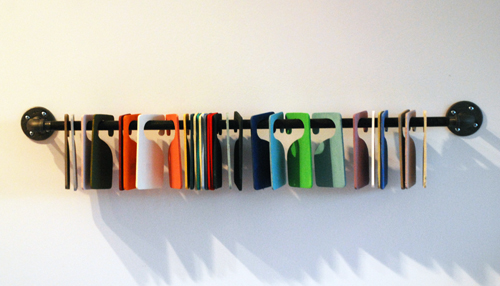 And here's how it looked on opening day.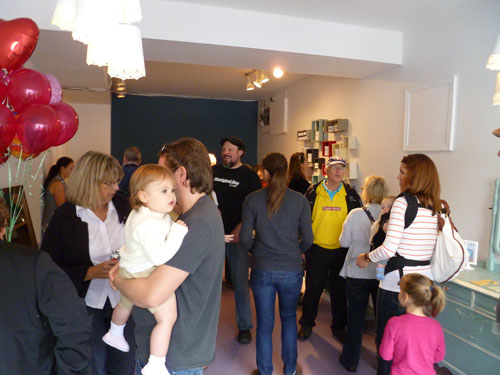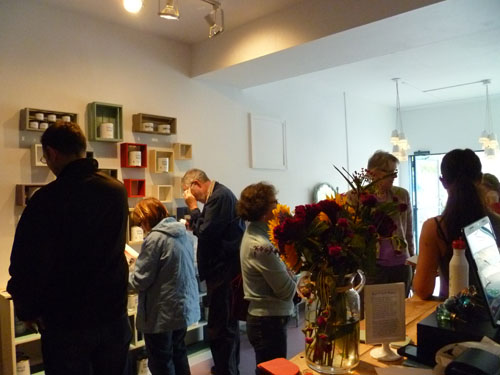 It's a little shop, but I love it. And I feel really proud that we did it all ourselves…'we' being friends and family who painted, built, took care of my kids, fed me, stayed up into the wee hours, and supported me (continue to support me!) throughout this adventure.
As I mentioned, the space is still evolving. I'm always going to keep it simple, and only ever have products that I totally love. And I really want to keep the emphasis on it also being a "work" shop, so expect splatters on paint on the floor and wet brushes strewn about.
I'm on the look out for a big work table where I can mix paint, show people how to use paint and wax, have pictures and magazines about, and just generally to get creative on. Hopefully it's a place where you might also want to come sit down and chat for a bit, too.
Looking forward to seeing you soon…
Kx