Lovely summer time…and our attentions are going from inside to outside. I've had a lot of questions lately about painting outside with Chalk Paint™, and the answer seems to make people happy.
Yes, absolutely you can use Chalk Paint outside!
I've done a few pieces for outside, and have learned a lot. The biggest success I've had is with the outside of my shop.
Last August,  before I opened, I painted the exterior of the shop with Old White and a touch of Paris Grey (but you'd never know about the grey…it just looks white). And the trim was in a custom blue (I was trying to make Aubusson, which I didn't have at the time so I had to improvise).
Here it is just after painting in August 2012 as my sign was being put up…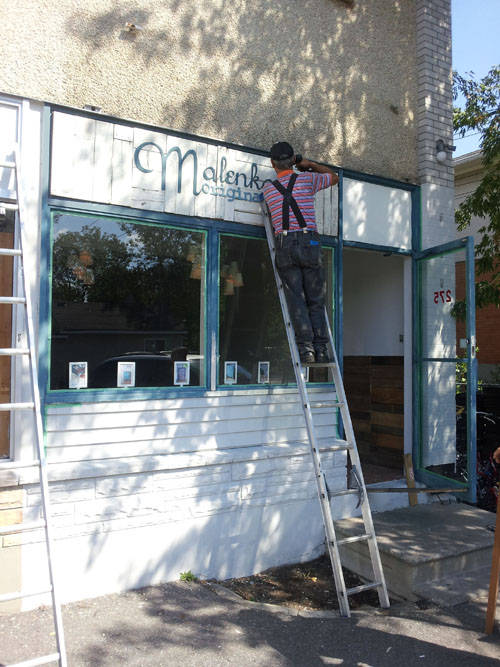 And here it is a couple days ago, over 10 months after the above picture…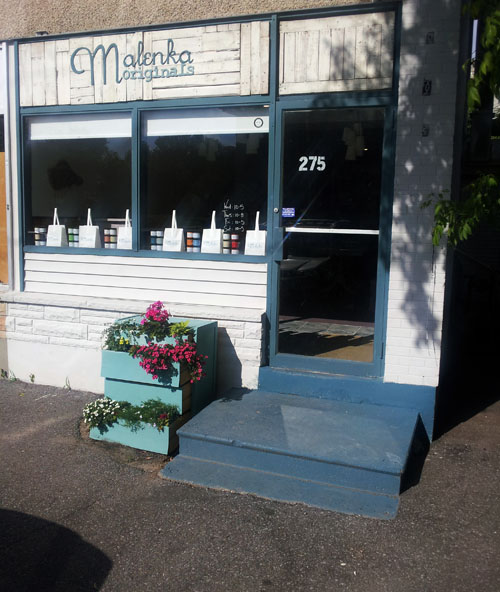 So, after a long, VERY cold Ottawa winter, it still looks pretty much the same as a few days after I painted it. There's one minor place where the paint lifted on the stone, but otherwise it's great. And that's a mix of surfaces…brick, vinyl, aluminum (around the windows), wood (on the sign), and concrete.
For the aluminum around the windows, I had to rough up the surface a bit first, then do three thin coats, then I burnished it a bit with some 600 grit sandpaper.
The front step has taken a bit of abuse. Here's a picture in March…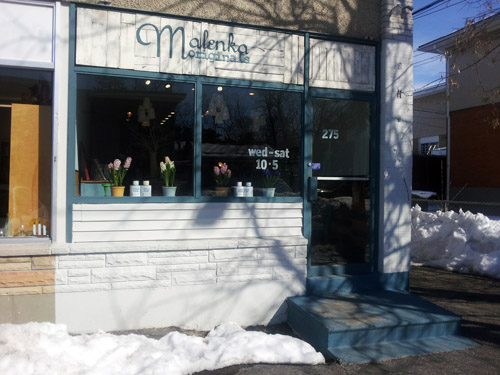 You can see it was getting worn off where it was getting the heaviest foot traffic. I repainted it. And I'll probably have to touch it up every year, but it's no biggie. It took me about 20 minutes to apply another coat of Aubusson blue over the worn patches.
For outdoor furniture, you don't use the wax. Wax isn't an outdoor grade material, and the extreme heat and cold, plus excessive water, can affect it.
So what do you finish it with? Nothing! Chalk Paint is breathable, so water can just pass through the paint without getting stuck (which often is what causes peeling and bubbling of outside paint).
My experience is that Chalk Paint holds up incredibly on outside furniture in the non-winter months. After excessive rain, hot sun, it still looks amazing.
Here's the dresser I've used as a flower planter outside the shop, painted in Provence…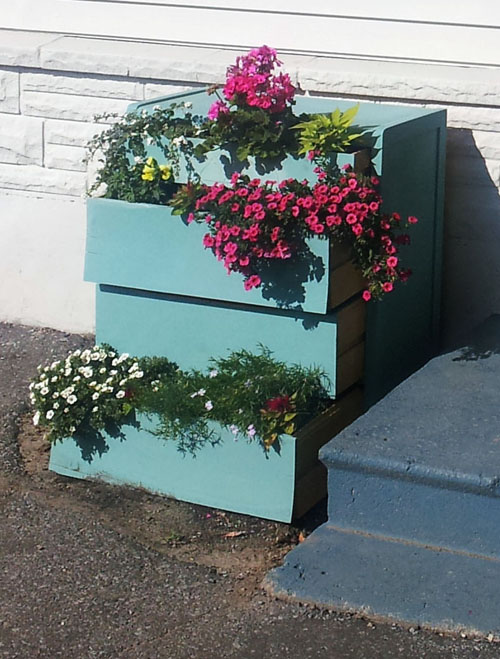 The dresser itself is starting to warp out in the elements, but the paint is still looking gorgeous.
My only caveat…this is Ottawa, and wow, winter is harsh.  Not much can make it through our winter after being buried in 40 feet of snow. Bring your furniture inside.
But let's not think about winter right now…time to get outside and do some painting.
– Kx