We were so excited to be invited back to CTV this week to film a segment about the Refreshed Furniture Pop-Up Shop! It's now online to watch here.
It's always a fantastic time with Leanne Cusack, who is just as enthusiastic and warm off camera as she is on.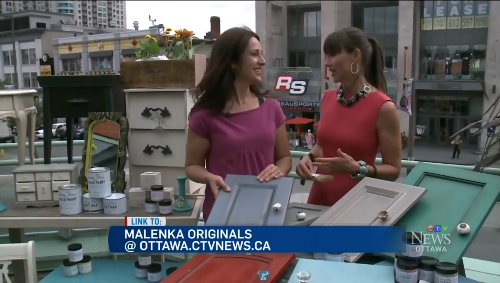 We gave a sneak peek of a small selection of the beautiful pieces that will be up for grabs at the sale on Saturday, 20th September.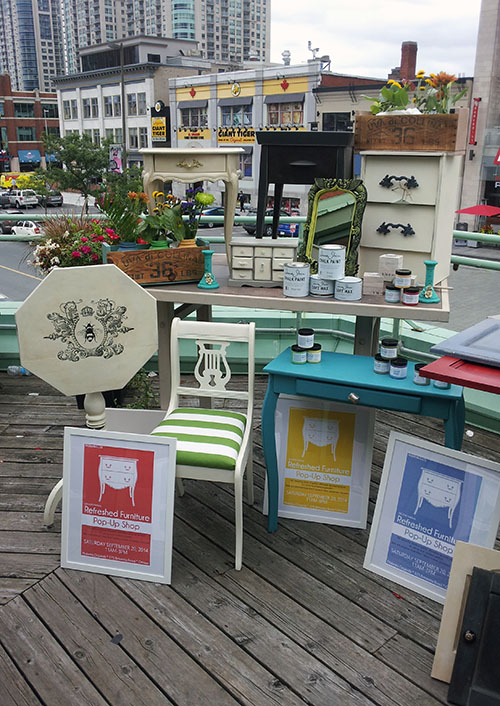 And it was also the perfect place to reveal the finished pictures of my kitchen cupboard and floor paint-a-thon! (If you didn't see them earlier, see the mid-progress pictures here.)
We brought a bunch of painted kitchen cabinets to show the potential of the paint for cupboards.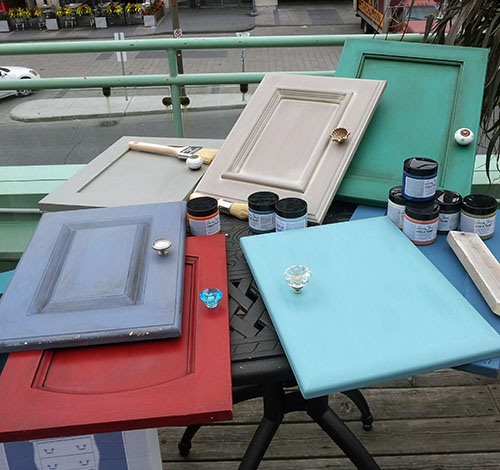 They'll all be on display at the Malenka Originals shop, plus we'll be offering a workshop starting in October on painting kitchen cupboards. You can see more info and book on the online shop.
And don't forget, there will also be demos during the Pop-Up Shop, including one on painting kitchen cupboards and floors! The schedule is available here.
Thanks to the ladies who provided their furniture for the segment! All those pieces will be for sale at the Pop-Up Shop. Here's the details about who did what:
Antique table in Old White with queen bee decal: Pat Dickinson Design
Upcycled wine crate with painted mason jars: Simply Refreshed
French Provincial sidetable in Old Ochre: Bluebird Upcycled Furniture and Decor
Harp chair in Old White with green stripe upholstery: Furniture Flashback
Vintage candle holders in Florence with flower detail: Recreated Designs
Multi-drawer jewellery box: Tessie's Creations
Mid-Century Modern side table in Graphite: Gar-art Sale
Dragon mirror in antiqued English Yellow: Furniture Flashback
Hallway table in a custom turquoise with Graphite distressing: Revisions
Two-drawer shelf in Old White with exquisite blue hardware: Recreated Designs
And there was also an amazing piece of art by local artist Dulce Tapp and cool pallet sign by Shabby Turned Chic that were sadly not shown but are certainly worth checking out at the sale!
We're expecting a whole bunch more pieces, probably 100+ in total, and the work and colours are going to blow you away!
See you on the 20th!
Katrina