This sweet three-drawer antique dresser has been a fixture in the shop. But it's now time to let it go…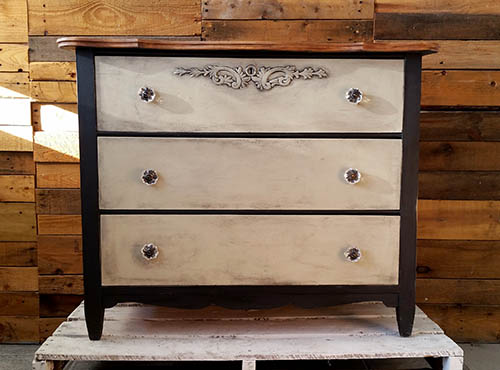 As many of you know from visiting Malenka Originals, we don't have a huge amount of space, so have to be choosy about which pieces we keep in the shop. The furniture we have has to serve a dual purpose…it needs to be functional, acting as a display for a few items here and there. But more importantly, it needs to showcase the beauty and possibilities of Chalk Paint™.
This little piece did both very well. Particularly the latter. There are several lovely features on this dresser, and it always has been a great conversation piece in the shop.
First off, people are always surprised about the colour. Most people guess it's Old Ochre on the drawers, but no, it's Country Grey (with Graphite on the trim). Country Grey is an intriguing colour. I know what you're thinking… "that doesn't look grey!".  It's one of the most common lines we hear from customers when they hear what the name is. And yes, they have a point! Country Grey isn't traditionally grey, as we're used to seeing grey. But — as Annie has really been trying to teach us stockists for years — in colour theory terms, grey is made by mixing two complimentary colours together, and then adding white.
So, Country Grey comes from mixing a red (like Emperor's Silk) with a green (like Antibes), then adding white. It has some very strong green tones in certain lights. But it also has a slight warmth from the red. It goes very well with both reds and greens, as Annie Sloan was illustrating (quite literally!) at a recent workshop I attended in Oxford.
(She drew that cute little dresser is about 10 seconds flat!).
Here she's showing what colours would go well with Country Grey. She was explaining that if you had a wall that was in Country Grey, then doing a dresser in a Burgundy shade would be very complimentary. You can see some greens in the top as well, as they would also go well with Country Grey because, again, it is made using both red and green.
Anyway, there you have it…Country Grey unleashed.
But I digress. Back to this sweet piece…
I didn't use red nor green this time to go with the Country Grey, but wanted to stick with something neutral and dark. Graphite was a perfect compliment. And to go with the antique style of the piece, I decided to refinish the wood top for a nice rustic look.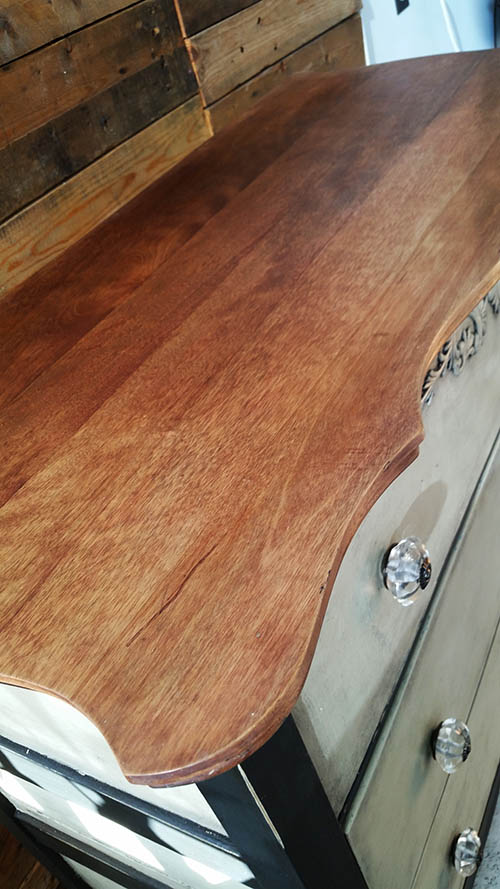 Which brings me to the next point of interest on this piece — the wood top. After stripping the top down, I simply added Annie's Dark Soft Wax to it, which resulted in this light honey-brown colour. As dark as the dark wax looks in the can, it won't cause a dramatic colour change on wood. It will darken it a shade or two, while also giving it a warm glow. I love wax as a finish for wood, and also find it very durable. Apply in a similar way as you do over Chalk Paint™, applying then wiping right after.
Another fun detail on this dresser is the black wax. As I was going for cooler tones with the Graphite trim, I decided to compliment the details with a crisp black wax. I did this by mixing some Miss Mustard Seed's Typewriter milk paint into Annie Sloan Clear Soft Wax. I've done this technique many times and love it. Most of the time I use Annie's Soft Wax in dark for antiquing, but there's a few times I want black, not brown. Such as with my Gustavian dresser.
(You can see more pictures of this piece, and the full post here.)
As you can see from both the above dresser and the little Country Grey dresser, the black wax gives a slightly gritty effect, which comes from mixing a powder into the wax.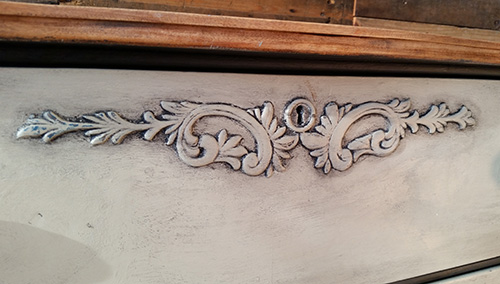 Here it is a bit closer up…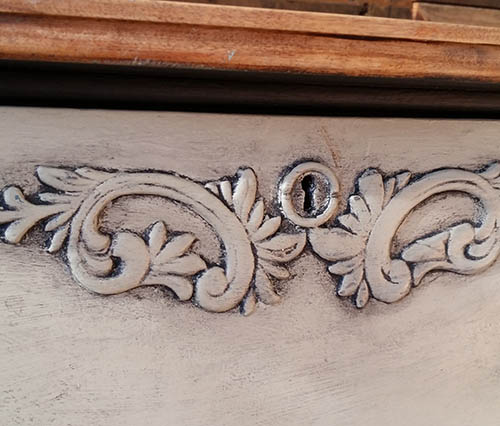 If you'd like to try this type of wax, just mix some milk paint powder into your Clear Soft Wax. In the same way as with Dark Soft Wax, apply clear first (and wipe), and then your black wax (and wipe again). Apply more clear wax to release any of the black wax.
And finally, another fun little part of this dresser is the bright, happy Barcelona Orange drawers!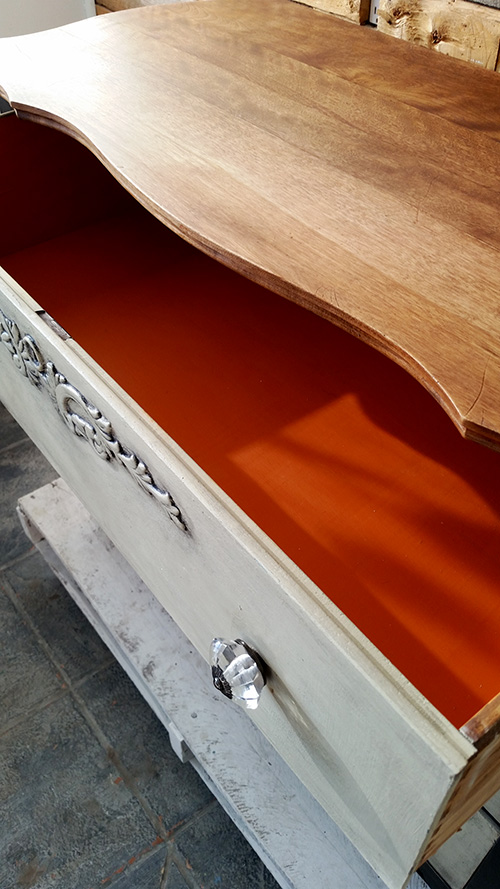 Our customers love to open up the drawers to see this. Can't help but smile.
This sweet piece is now available at the shop. $225 + tax.
Dimensions:
37.5″ long
18″ deep
30″ high