Over the weekend, I had a chance to present at the Home Renovations Show here in Ottawa.
I was asked by the Ottawa Tool Library to come on stage with them, as one of their 'tool educators'.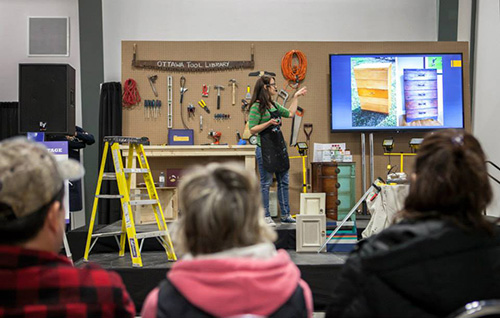 Here I am talking about the fixes I did to this Industrial Chic dresser.
If you haven't heard about the Ottawa Tool Library yet, jump on over to their website or FB page. It's a fantastic initiative. A non-profit lending library where — for a small membership fee — you can borrow any of their tools for your own DIY jobs.
(They're in start-up stage, and still looking for a space, so contact them if you have a suggestion!).
But just imagine doing a big job, like a kitchen renovation or building a deck, and being able to borrow all the expensive tools, instead of buying.
Makes sense, doesn't it?
So where does Malenka Originals come in? Well, I love the idea of resource sharing and cutting down on waste. And, as you probably know, I'm on a mission to save old furniture. So anything that helps make it easier for people to fix up old pieces makes me happy.
In light of all that, I contacted the Ottawa Tool Library and told them I wanted to donate some tools. The favourite ones I use regularly when doing fixes to old pieces.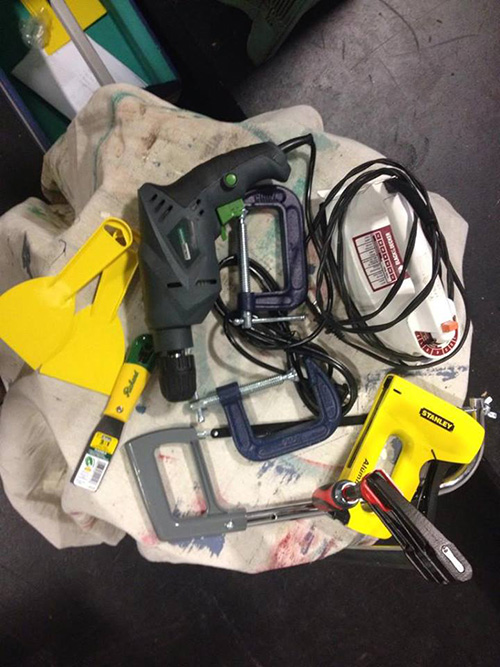 Now, just so we're on the same page, I'm not a woodworker or builder of any kind. When I talk about fixing stuff up, I'm talking about 'soft DIY'.
There will certainly be some serious tools in the Ottawa Tool Library, and some very skilled craftspeople who will be lending their time and talent. But me, I'm here because I believe there are some basic fixes that ANYONE can do, no matter your skill or knowledge.
So what tools and why did we donate them?
A drill.
Drills come in handy often, but I mostly use my drill for putting on new hardware.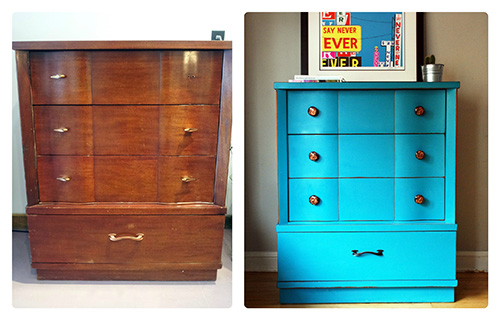 Take this old find. It desperately needed new hardware, so I used woodfiller in the holes (we've also donated some scrapers to help with this small job) then drilled new holes for the hardware. You might also need a hacksaw — which we've also donated — for cutting off the long screw of the new hardware. A coat of Chalk Paint™, and voila, brand new.
An iron.
Yes, we all have irons, but we've donated one that you don't have to worry about getting a bit gunky! Irons are amazing for stripping off old veneer, as Julie recently illustrated on a sad bookshelf of mine.
It was in rough shape…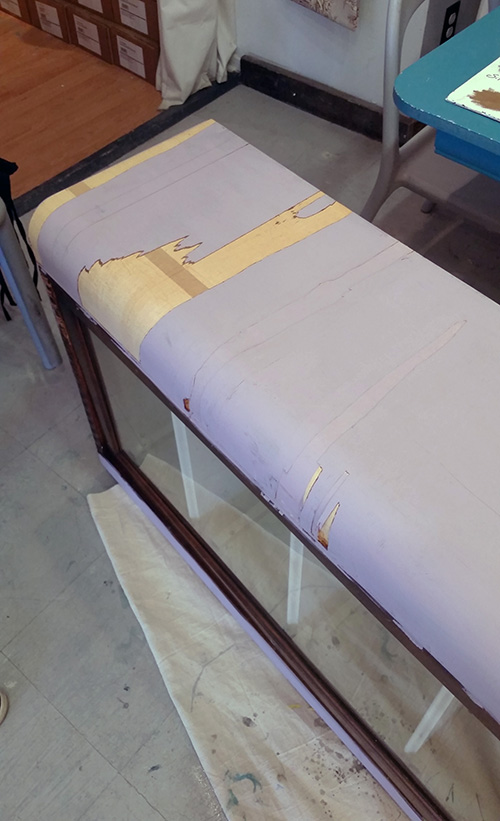 But with a wet towel, and the steam from the iron…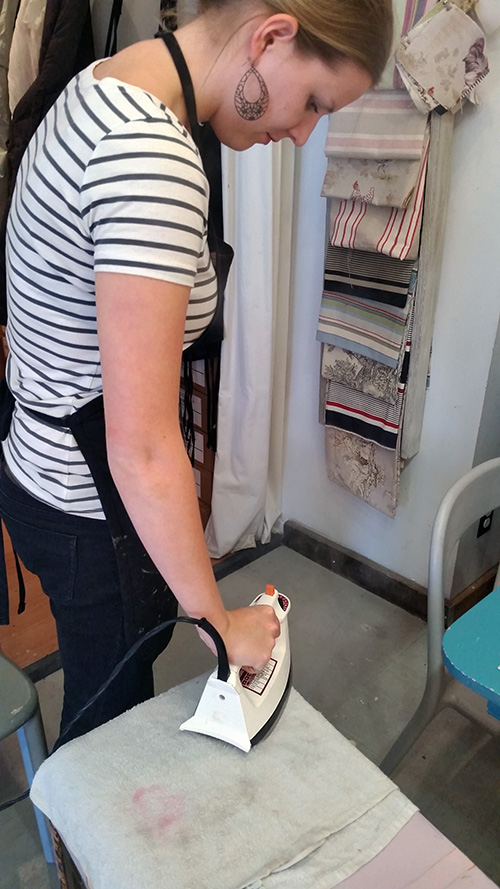 Julie loosened the glue on the veneer so it all lifted off very easily.
We then painted it in Arles Chalk Paint™, and it's a sweet little piece now.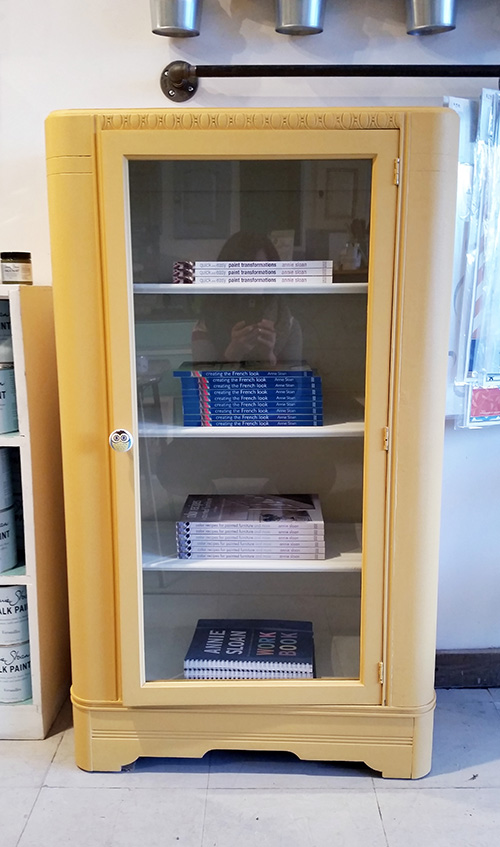 Staple gun.
We've also donated a staple gun, for doing basic upholstery projects, like this one…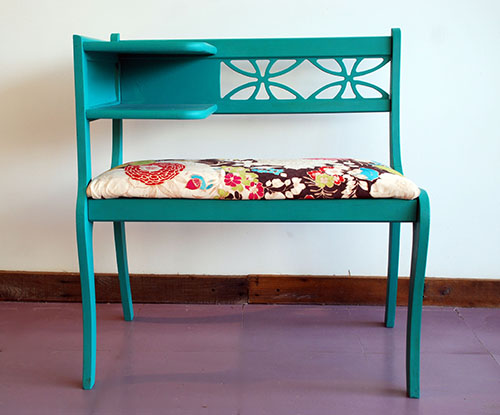 All I used was a staple gun and a piece of fabric. Took about 20 minutes. Two-and-a-half years later it still looks perfect!
Clamps.
We've donated a few sizes of clamps, including a really long one. I love clamps and use them frequently. A little bit of Gorilla Glue, a clamp, and you're as good as new.
I had to glue back the joints on this old antique piece. Beautiful Pin and Crescent joints on the drawers, but they'd come a little loose over the years.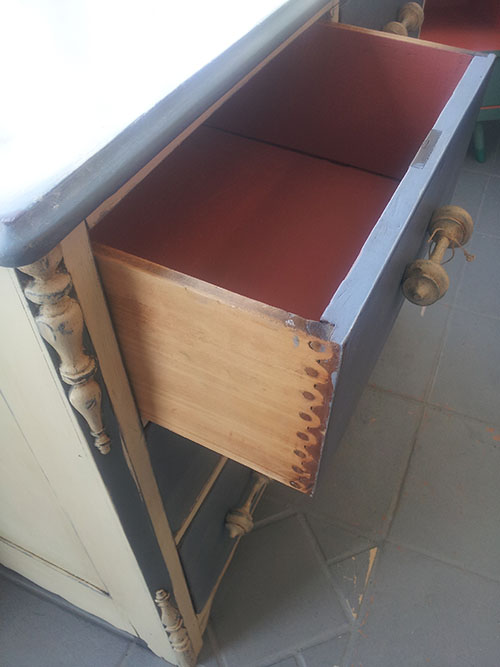 But after gluing and clamping, she was as good as new, and ready for another 100 years of service.
So, with a drill, hacksaw, scrapers, putty knifes, staple gun, iron and clamps available at the tool library, we hope it makes it a little bit easier for anyone to refresh an old piece of furniture.
Even if you live in a small apartment, or are on a limited budget, these simple fixes with a few basic tools should go a long way in giving those roadside rescues or junk shop finds many years of use.
If you have tools to donate, or are interested in getting involved with the Ottawa Tool Library, they'd love to hear from you!
~ Katrina
You might also like